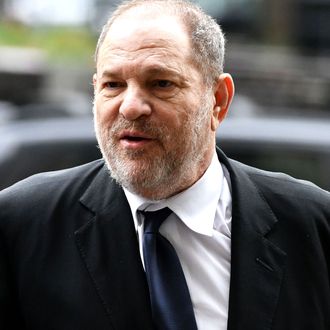 Harvey Weinstein.
Photo: Erik Pendzich/REX/Shutterstock
The judge handling Harvey Weinstein's sex-assault case booted reporters and members of the public from the courtroom Friday morning, barring them from an important hearing on evidence that might be used at trial, such as other allegations of misconduct against him.
In filings released last week, it was revealed that prosecutors and Weinstein's lawyers wanted to close Friday's proceeding, where prior allegations against Weinstein would be discussed. The hearing at hand deals with whether prosecutors can bring up other these allegations of misconduct during Weinstein's June 3 trial.
Weinstein, who faces charges for allegedly nonconsensual encounters with two women, has maintained his innocence.
Manhattan Supreme Court justice James Burke said in previous papers and in court today that he would hear arguments from opponents of courtroom closure prior to making a decision. Weinstein, who did not appear worried upon entering the courtroom, was sporting a black suit and crisp white shirt, and walking with a slight limp.
Marianne Bertuna, who appears to be the first female lawyer on Weinstein's legal team to speak for him in the Manhattan criminal case, argued the proceeding "must be sealed" to prevent an unfair trial, due to media coverage.
"Just look at this courtroom today, this is not a typical audience," she said, referring to the nearly two dozen reporters who were there, typing or taking handwriting notes. While the courtroom seemed larger than courtrooms used for prior Weinstein proceedings, it was neither packed nor disorderly. If anything, today's hearing was pretty par for the course with a high-profile case in New York City. El Chapo this was not.
Bertuna then complained about social media. "We do know however that the media has every intention of releasing the information in real time before the court even renders a position … we believe the information will be sent out to the public in real time over Twitter."
"We live in a world of instant gratification on social media," she said. "Gone are the days when yesterday's news [is] yesterday's news."
"I'm sure that before we leave the courtroom today news will be out there," she said.
Joan Illuzzi, the main prosecutor on Weinstein's case,  said closure was necessary to ensure "minimizing the effects of the pretrial publicity" about additional alleged misconduct, "much of which is not made public yet."
"Not every person that we have listed that we're asking to call … has been made public," Illuzzi said. "Not everybody has been made public at this point."
Robert Balin, who represents a number of media organizations in their fight for access, argued that "prior bad acts or uncharged crimes are already matters of public record," pointing to the dozens of women who have already come forward.
"It is like trying to close the door after the horse has left the barn," he said, arguing against the notion that additional information would spur irreparable further bias.
Vulture also addressed Burke, arguing that closure stands against the First Amendment right to access, and that the U.S. Constitution doesn't mention social media as somehow impacting that right.
Ultimately, Burke was not swayed in favor of access, saying that "all court proceedings including hearings are presumptively open to the public and press … however, this right of access is not absolute."
The information that is being discussed, Burke said, may be "highly inflammatory" and "most of the information derives from witnesses who have … personal and sexual encounters with the defendant … Closure will prevent a substantial possibility that a defendant's right to a fair trial will be prejudiced."
"This court has considered the celebrity status of the defendant has generated intense media scrutiny and an enormous amount of pretrial publicity," he also said. "Clearly, the publication of this information at this time would serve no purpose other than to arouse negative public sentiment toward the defendant."
Burke said courtroom closure was "the only available" way to prevent tainting the jury pool.
The attorneys representing media organizations in the fight against sealing are pushing for an emergency appeal, in the hopes of getting the courtroom open. It's unclear what might happen with this attempted appeal, but at the very least, it will likely annoy the disgraced movie mogul's legal team and, of course, their camera-shy client.
Update, 5:11 p.m.: After a lunch break, where Weinstein said he was eating at a "pizza place" and that his "attorneys are treating," the court was reopened to the public. The proceeding mostly involved housekeeping matters: The trial date was pushed back to September 9, and that the trial is expected to take between five and seven weeks.