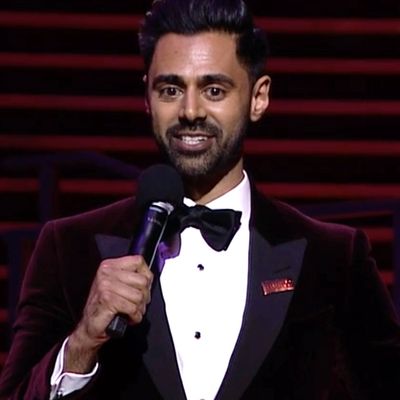 Hasan Minhaj at the Time 100 gala.
Photo: Time
Comedian Hasan Minhaj had the mic for a few minutes at Tuesday night's Time 100 gala and he used the opportunity to call out Jared Kushner for his close relationship with Saudi crown prince Mohammed bin Salman.
Minhaj, who has a bit of history with MBS, first praised Saudi activist Loujain al-Hathloul, who was put on trial last month for having the gall to drive.
"I know there's a lot of very powerful people here, and it would be crazy if there was a high-ranking official in the White House that could WhatsApp MBS and say, 'Hey, maybe you could help that person get out of prison because they don't deserve it,'" Minhaj said as he appeared to stare at Kushner. "But hey, that person would have to be in the room. It's just a good comedy premise."
Earlier this year, Minhaj offended the Saudi government by spending an episode of his Netflix show Patriot Act tearing into MBS over the murder of journalist Jamal Khashoggi. When the government complained, Netflix stopped streaming the episode in the country. Minhaj would later thank the kingdom for making him go viral. "For the first time in my life, I was a bipartisan icon," he said. "Liberals and conservatives: They both embraced me like I was money from Big Pharma."