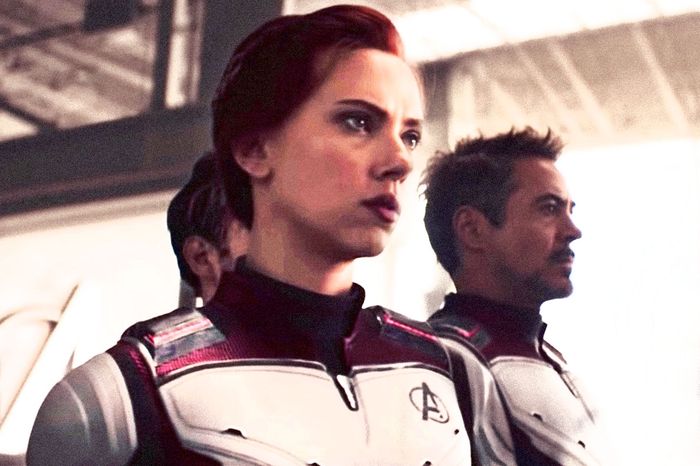 Photo-Illustration: Maya Robinson/Vulture and Photo by Marvel
Warning: this story contains numerous spoilers for Avengers: Infinity War.
The writers of Avengers: Endgame realize that their blockbuster's three-hour-and-two-minute running time seems excessive. Christopher Markus and Stephen McFeely are fully aware of the fact that Endgame eclipses the Marvel Cinematic Universe's previous running-time record, 2018's Avengers: Infinity War, by nearly half an hour. Theirs is the kind of move you'd expect from Terrence Malick rather than the crafters of a comic-book superhero movie featuring a talking raccoon, but they insist that three hours is the shortest Endgame could possibly be.
"It's exactly as long as it needs to be," says McFeely who, with Markus, has written six Marvel films in all. Together, they simultaneously wrote both Endgame and the movie it sequalizes over the course of four years. "Any shorter and it would have felt like we weren't honoring all the threads and franchises that are feeding into this climax. Twenty-two movies in, not only has the movie earned its length, but people deserve a movie of that substance. I swear to God, it sounds like a paradox to say this, but it's a lean three hours!"
Arriving as the 22nd MCU-branded feature, Endgame has been positioned as a culmination of sorts: a narrative inflection point intended to tie up "at least six or seven" different franchise storylines, as McFeely put it. It also marks the end of Marvel's so-called Phase Three, the final installment in the Avengers' protracted battle against a genocidal purple titan who's obsessed with precious stones, and the introduction of the mysterious Phase Four. As the sequel to Infinity War — in which Thanos (Josh Brolin) uses the Infinity Stones to wipe out half of life in the galaxy, including presumed Phase Four heroes Spider-Man and Black Panther, with a simple snap — Endgame clearly has a lot of ground to cover.
"If we told you the entire universe got snapped out and we were gonna wrap it up in a tight 85, you'd have issues," Markus says.
Thanos' murderous snap has taken on Empire Strikes Back-like pathos in fanboy circles, but it conjures a different resonance within Hollywood: ringing cash registers. Having grossed $257.6 million over its opening weekend to become the biggest domestic movie launch of all time, Infinity War went on to earn over $2 billion worldwide, becoming Marvel's most lucrative film to date. According to pre-release tracking reports, Endgame could match that haul, earning between $200 million and $260 million over its first three days at the multiplex. Some box-office sources have told The Hollywood Reporter they estimate somewhere between $250 million and $280 million is a more realistic range, despite the fact that Endgame's bloated run time means fewer screenings per day. (Its distributor Disney could remedy that problem by booking more theaters.) Either way, Hollywood has already started stacking the cash; stock for the theater chain AMC shot up by more than 10 percent earlier this week following the news of robust pre-sales Endgame tickets.
But for the MCU faithful, fascination with Avengers: Endgame hinges on a literal life-and-death questions. As in: which superheroes will live and which ones are never coming back? Markus and McFeely can't control the box office, but they they can control which characters they resurrect and which they condemn to the cosmic graveyard. In Infinity War, the screenwriters unceremoniously murdered several Avengers and important Avengers-adjacent characters. They had Thanos snap the neck of Loki (Tom Hiddleston), ram a spear through Heimdall (Idris Elba), throw Gamora (Zoe Saldana) off a cliff, and fatally rip an embedded Infinity Stone from the head of Vision (Paul Bettany). Then there are the heroes who disintegrated during the testicle-chinned tyrant's Infinity Gauntlet wipe-out: Doctor Strange (Benedict Cumberbatch), Bucky Barnes (Sebastian Stan), the Falcon (Anthony Mackie), Scarlet Witch (Elizabeth Olsen), all the Guardians of the Galaxy, Nick Fury (Samuel L. Jackson), Black Panther (Chadwick Boseman), and Spider-Man (Tom Holland) among them.
Although Disney has not yet publicly screened Endgame — and Markus and McFeely remain extremely schtum when it comes to the film's plot points and twists — fan speculation has rattled online for months. Consensus hovers around the theory that the remaining Avengers will use a form of time travel to bring some, if not all of the heroes back to life.
In reality, not everyone wants to come back. In an October tweet, Chris Evans confirmed that he's finished playing Captain America (having fulfilled his six-movie contract). Likewise, Chris Hemsworth's contractual obligation to Thor expired with Endgame. In January, he told USA Today, "I'm done. I won't be playing the character again." (Hemsworth later walked that comment back, admitting in the same story that he has discussed putting together a fourth standalone Thor film with Thor: Ragnarok director Taika Waititi.) Having renegotiated his Iron Man obligations several times since first playing Tony Stark in the early MCU hit, 2008's Iron Man, Robert Downey Jr. will likely make Endgame his Avengers swan song, too.
Several characters, however, must find ways to resurrect in McFeely and Markus's version of Endgame, if for no other reason than to star in their own future movies and TV series. Evidence that Spider-Man finds a remedy for Thanos' death snap is on the movie release calendar: Sony is rolling out Spider-Man: Far From Home in July, marking the launch of Phase 4. Sources also told The Hollywood Reporter that Black Panther director Ryan Coogler has "quietly closed a deal to write and direct the sequel." Disney's upcoming streaming service, meanwhile, is reportedly set to showcase limited series centered on heroes like Scarlet Witch and Loki. Guardians of the Galaxy Vol. 3 has tentatively been scheduled to reach screens in 2020.
When I ask McFeely and Markus how the Endgame writers managed to revive these heroes in a way that feels surprising to viewers, the writers deflect my question. "We shall definitely see," says McFeely.
"I know there's a Spider-Man movie because I saw a trailer, but no one has announced anything else," Markus adds. "We can only tell the story with the characters in front of us. We can't tell the story assuming the 10-year-old in the audience reads Variety. The internet, of course, is different than when I was watching Empire Strikes Back. I didn't know Return of the Jedi was dated for three years later. I just knew Han Solo was in carbonite."
As is required of the job, the duo knows how to keep a secret. Having met as college students at UC Davis, they signed their deal to write the third and fourth Avengers films back in the spring of 2015, just as production on another Marvel movie they wrote, Captain America: Civil War, was getting underway. They've been instrumental in shaping the fates of characters like Groot and the Hulk ever since, not that they go around talking about it. The writers spent about nine months between September 2015 and May 2016 putting together the shooting drafts for Infinity War and Endgame's scripts. They conferred frequently with the films' co-directors Joe and Anthony Russo, as well as Marvel head honcho Kevin Feige, all the while avoiding needling press questions like mine.
"One wall had Movie One on it, plotted out on three-by-five cards, and one wall had Movie Two with the Marvel Cinematic Universe characters on them," McFeely recalls, in the vaguest of terms possible. "We could move them around and place them as we'd like. So these [films] were really conceived together. We could revise concurrently so that Movie One could talk to Movie Two. It wasn't like we finished it then started the next one."
At one point, they infamously rejiggered the cards so that The Snap™ occurs in Endgame instead of Infinity War. "It's part of the R&D process: What if we put it here? What happens?" says Markus. "To test out the alternatives. To know that the final decision that you're already leaning toward is the one. Having The Snap gave Infinity War an ending as opposed to a cliffhanger. It made Thanos' journey complete. He was the main character and had to succeed so that was that."
The screenwriters' most daunting task was juggling the two movies'$2 76 speaking characters. "The group dynamic doesn't mean that you have to sacrifice individuals' characteristics," Markus says. "Part of that means going back over [the scripts] again and again. Doing a Black Widow pass and a Captain America pass and just making sure that everyone's beats — even though they might not have many of them — are true to who they are, and reveal something about them. Rather than seeming like a cardboard cutout of a character who you've seen [before]."
Thanks to having delivered back-to-back sequel installments for Marvel in the past — Captain America: The Winter Soldier and Captain America: Civil War (the latter featuring 12 superheroes) — Markus and McFeely feel confident in their ability to manage multiple competing caped crusading narratives in Endgame. "The problem is, how do you give them enough of an arc to justify their presence in the movie so they're not just sort of glorified cameos?" says McFeely. "We learned this on Civil War — which looks like a cake walk in the rear view mirror compared to this. Characters only show up when the story absolutely demands it. We had versions of, 'Here's what Steve and Natasha were doing between Civil War and Infinity War.' But it had nothing to do with Thanos. And it had nothing to do with Infinity Stones. So those things got jettisoned."
Whether or not your favorite characters, plotlines, or fantasy resurrections are on the cutting room floor is yet to be seen. The writers continued to refine both films scripts from May 2016 until year's end, when production on Infinity War began. Then they moved their families to Atlanta (where most of the shooting for both movies took place), staying on for Endgame rewrites until January 2018. They later returned for reshoots in September 2018 and January 2019. Now, almost four years to the day from accepting the job, after countless script revisions and three-by-five cards, Markus and McFeely have but a matter of days until their magnum opus lands in theaters, to the dismay or relief of fans worldwide.
"It's been our lives," McFeely says. "Us pushing these two rocks up two hills."