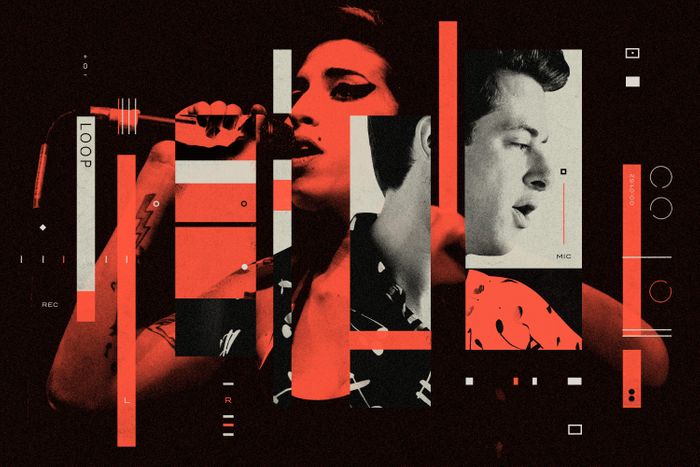 Style recycling is a common (and beloved!) way to copy music. As Amy Winehouse's producer, Mark Ronson (right) used the sound of 1960s Motown.
Illustration: Mike McQuade and Photos by Phillip Massey/FilmMagic and Antoine Antoniol/Getty Images
Recycling is a fundamental part of the song creation process. The trick is distinguishing the difference between good copying (legal, inspired) and bad copying (illegal, shameless). To figure out how to copy a song, you must first know which parts to copy.
If we define music as organized sound (and we do), there are three main elements that make up the sound and its organization:
Harmony
This is defined as notes played more than one at a time, stacked upon each other to create chords. It is typically expressed by the guitar, keyboard, or synthesizer. Think of the piano intro to the Beatles classic "Let It Be" — those four chords have gone on to be the harmonic foundation of hundreds and hundreds of chart-toppers.
Rhythm
Most commonly thought of as the beat that drives a song — the drum and percussion pattern that glues it all together.
Melody
Notes played in succession, one at a time, usually represented as the sung part of a popular song. When you sing along with your favorite song, you are singing the melody.
Of the three elements, harmony and rhythm are pretty much fair game for copying. Many songs utilize the same chord progression, and even more have the same or similar beats. Melody is where things get complicated. Using one song's melody in another without authorization is how musicians often get sued.
Interpolation
If one "copies" a melody, things can very quickly go from homage or influence to theft. Unless, of course, one credits the source of the melody — and pays them royalties, as Ariana Grande did for the use of Rodgers and Hammerstein's "My Favorite Things" on "7 Rings." This is known as interpolation — the practice of re-creating an existing melody, note for note, for an altogether new song.
Sampling
Generally regarded as the most recognizable way to "copy" music, this is literally using a previously recorded piece of music to create a new song. It all but requires getting permission from the artist, writers, and/or publishers of the original to use the recording, many of whom demand large sums of money up-front in exchange for authorization. Sampling is also the foundation upon which hip-hop is built.
Ironically, the song that put hip-hop on the map, so to speak — the Sugar Hill Gang's 1979 smash "Rapper's Delight" — appears to be a sample of "Good Times" by Chic, but in reality, it is an interpolation. Bernard Edwards's bass line, the defining element of the song, was copied note for note and replayed by another musician, which, not surprisingly, led to legal action by Edwards and his bandmate and co-composer, Nile Rodgers. Their lawsuit set the legal copyright precedent governing the rules of interpolation. It states that one can indeed use any element of a previously created work as long as one credits the creators of that work.
Flipping
Many great hip-hop producers often use lots of different smaller snippets of older material in a collage style to create something entirely new. This is often referred to as "flipping" the sample, and it's one of the most important contributions that hip-hop has made to popular music.
Tropes
While sampling and interpolation are the most immediate and obvious ways to copy popular music, musical formulas and production techniques are also copied all the time. Take auto-tune, a vocal processing technique that has the ability to intonate anything someone sings no matter how "on" or "off" they are. Auto-tune has become such a widely copied method for producing modern, radio-friendly hip-hop that it has now become cliché, or a trope.
There are several other regularly copied and easily identifiable tropes currently happening in today's hip-hop world. See if you can find a trap song that mentions a gun that isn't immediately followed by a high-pitched, rolled "r" — "brlrlrlrlrlrlrt." Probably the most obvious trope being used these days is the "triplet" style flow, which is the use of three notes per beat where there usually are two (see Cardi B's "Drip" — "I gotta work on my anger, might kill a bitch with my fangers …"). It's so pervasive these days, it can be hard to tell one rapper from the next. And that's kind of the point. What turns a cool new idea into its own subgenre, and later into its own genre outright, is how many other folks are doing the same thing. "Trap" wouldn't be its own thing without any of the above-mentioned signature devices — especially the trend of the triplet flow. And going back to Grande, the flow she was accused of stealing on "7 Rings" is actually a version of the Scotch snap, another popular rap trope.
Style Recycling
Relying on the tried-and-true methods, sounds, and techniques of older styles of music is also a common and beloved technique to create new music. Without it, certain styles of music could and would simply dry up and disappear. Mark Ronson leaned heavily on the sound of 1960s Motown to help propel Amy Winehouse to stardom in 2006; he and Bruno Mars did it again with the sound of early '80s Minneapolis funk with their own hit, "Uptown Funk," in 2014. Copying style can sometimes bring unwanted litigation, but style remains something that is not a "copyrightable" component. This is how a band like Greta Van Fleet can almost convince you that you are listening to a long-lost Led Zeppelin song and not a brand-new song written by four kids from Frankenmuth, Michigan. The deeply flawed "Blurred Lines" verdict (and subsequent appeal) is based on a backwards understanding of style versus substance. In her dissent, Judge Jacqueline Nguyen called the verdict unconstitutional in that it "all but allowed the [Marvin] Gaye estate to copyright a style."
Lyrics
The final component of a song that often gets copied is lyrics. Just as we all speak in clichés, colloquialisms, and the "lit" slang of the day, so too do we write songs with those same common phrases. How many songs have an "ooh baby" in them or an "in your arms?" How many times has someone "walked on out the door" in a song?
Avril Lavigne was sued and settled for her song "Girlfriend" for the phrase "Hey, you, I wanna be your girlfriend" — Tommy Dunbar of the Rubinoos, whose 1979 song, "I Wanna Be Your Boyfriend," uses the exact same phrase, with the opposite gender. Three years prior, in 1976, the Ramones posed the same offer: "Hey little girl, I wanna be your boyfriend, sweet little girl, I wanna be your boyfriend."
What makes for a "copyrightable" component when it comes to lyrics? Usually, it happens in the narrative part of a song's lyrics, which take place in the verse. A song is less likely to be litigated over a "hook," which is typically based on a cliché or common phrase. And like the musical elements of a song, one person's homage is another person's plagiarism.
*A version of this article appears in the April 1, 2019, issue of New York Magazine. Subscribe Now!