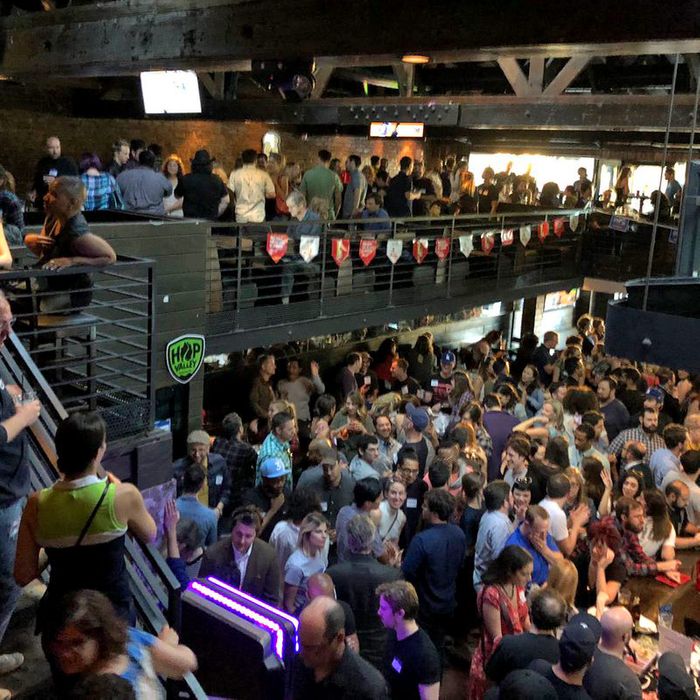 Photo: April Shih/Twitter
"I'm looking for diverse voices." "We're looking for upper-level women." "We're looking for queer voices who've lived in Chicago." "We're looking for people with experience with cars."
These are some of the messages that greet members of the Writers Guild of America when they log on to the organization's new online jobs board. Dubbed the WGA Staffing Submission System, it's essentially a glorified Excel spreadsheet that promises to connect writers for hire within the guild with showrunners in the market for new blood. If it sounds a little DIY, that's because it is. But in the wake of the WGA's decision to instruct its writers to fire their agents en masse, the system has become a crucial, if not imperfect, means of connecting Hollywood screenwriters with potential employment opportunities.
The staffing website has been in development for weeks, ever since it became clear that a rift between the WGA and the major talent agencies it deals with (WME, CAA, UTA, and ICM Partners) would be unable to reach an agreement on the practice of "packaging" — a practice that the WGA says puts guild members at a serious financial disadvantage, but that the Association of Talent Agents refuses to abandon. Negotiations between the WGA and ATA are expected to drag out for several months. In the meantime, the guild is urging its rank and file to break their dependence on agents with a variety of lo-fi, stopgap measures to weather staffing season: the online jobs board, a series of networking "mixers," and a Twitter hashtag.
The Jobs Boards
"I think that it will work for this staffing season, if need be," explains one WGA member, who spoke to Vulture about the WGA Staffing Submission System on the condition of anonymity. (She identifies as a white woman in her late 20s who has been a staff writer on three shows and now operates at the co-producer level.) But, she makes clear, "I don't think it's a forever fix."
The jobs board is simple: Members log on to the online portal with their WGA membership ID and an initial prompt asks if they are writers or showrunners. As writers, the members are invited to upload a cover letter and up to two sample scripts. From there, the site operates like an alphabetically organized spreadsheet; shows are categorized as either "Open to Submission" (meaning their staff is in the market for new writers) or "Closed to Submission" (indicating it is fully staffed but open to receiving sample scripts for hiring consideration at a later date). The catch: Writers are limited to submitting scripts to no more than three shows, presumably to prevent flooding every showrunner in-box on the site.
In addition to listing plot synopses and log lines for each show, the jobs board contains detailed notes from showrunners about the kinds of writers they need. Hence the "We're looking for people with experience with cars," which is included in the notes section for a pilot about a mechanic.
"People will get staffed on there," the 20-something guild member explains. "People will meet. The only reason I'm skeptical at all about this submission process is I am worried showrunners will be so overwhelmed by how many submissions they get, they might not be able to get through them all."
That concern was amplified by another WGA member contacted by Vulture, a 30-something woman of color who has written for three premium cable shows. She feels the sheer volume of submissions will ultimately render the jobs board ineffectual. "I don't believe that it is going to work," she says. "How is it that a showrunner is going to open the flood gates and supposedly read all these people? … They don't even want to read the scripts when it's put on their desk by an agent."
"I agree with the WGA in the sense that we have a systemic problem. The way the system works is hurting people," she adds. "But I have seen writers get on Twitter and say, 'I never needed my agent to get a job.' I needed my agents to get a job! A lot of my friends who are minorities need their agents. They need their reps because we do not have the same reach that a white male would have in this industry."
Shawn Ryan, a TV showrunner who's been in the business for 18 years, writing and producing series like FX's The Shield and NBC's Timeless, disagrees. He said he personally read 80 scripts before inviting Kurt Sutter and Glen Mazzara into The Shield writers room (they went on to respectively become showrunners on Sons of Anarchy and The Walking Dead). Despite its elementary digital interface, Ryan has faith that the Writers Guild jobs board will be an effective staffing tool. "What the Writers Guild is trying to do on the staffing side is allow curated lists to be put together, and that's really what the agencies have been doing for the past five to eight years," says Ryan, who currently serves as showrunner for CBS's S.W.A.T. "When we get submissions for our show, it's an agency giving us a list: 'Here are 12 clients that we think may be suitable for you,' with a little paragraph on each one and samples attached. That can be mimicked by the staffing site."
Moreover, Ryan believes the board could "open things up" and make staffing a "more equitable" process. "In previous days, if you weren't with one of the Big Four agencies, a lot of times you'd have trouble getting read. The system disadvantaged young writers and specifically diverse writers. Now, letting writers advocate for themselves, letting them post stuff on the WGA website allows you to go, 'Oh, this kind of person with these interests matches up with what I'm looking for on my show. Let me read that script.' I don't know if this was a former CAA client or from a lesser regarded agency. So in that way this is an opportunity to give people access who have been shut out of the process before."
Jane the Virgin staff writer Rafael Agustin says the success or failure of the WGA jobs board will boil down to people like Ryan. "At all the meetings I've been to, all the showrunners are happy to read, refer, and hire off the site," Agustin says. "It really starts from the top down. If the showrunner's not committed to this then it's not going to work. But I think they'll hire."
#WGAStaffingBoost
The individuals who spoke with Vulture, who have only been using the staffing system for a few days now, say the jobs board has yet to yield any employment opportunities. Many writers have turned to Twitter as a supplementary service, where showrunners have started recruiting applicants using the hashtag #WGAStaffingBoost.
Julie Plec, co-creator of the CW's The Vampire Diaries and its spinoff The Originals, sent out a "call to arms" on Twitter in February, with the hopes of recruiting new writers for Legacies, the current series on which she serves as a writer, director and executive producer. She ultimately received 68 submissions from potential writers, and hired two of them. She has continued to promote promising candidates she did not hire via the #WGAStaffingBoost hashtag.
"The cry for help had little to do with what was looming on the horizon with the guild, but it provided me a window to read and to meet a new bunch of writers," Plec tells Vulture. "It also made me realize the power of crowdsourcing the staffing process. I wouldn't recommend it as a replacement for representation, but given where we are at right now, it's been really great to see writers stepping up for each other and recommending people they believe in. Hollywood is a competitive business, so it's always encouraging to see people going out of their way to be good to each other."
Likewise, last week Ryan tweeted out his pledge to scour Twitter using the hashtag to find writers for several upcoming projects.
"There's been a ton of response so it's probably going to be impossible for us to get to all the scripts," Ryan admits. "But my instructions to my development team has been to go through the hashtag. I ask people to self-advocate. Who are you? What do you bring to the staff? What kind of writer are you? And so I've instructed my development team to look through that and pick out the most interesting cases, the most interesting-sounding writers. And then there's an email address that we've set up where we're going to ask the people to submit a bio, a résumé, and a sample. There are a few different shows and projects that we're working now. I have a lot of friends who are showrunners who have shows. Some [writers] may not be right for us. But maybe they're right for Glen Mazzara's adaptation of Stephen King's The Dark Tower that he's working on right now."
#WGAMIX
Connections have been sparked offline, too. On April 19, Los Angeles–based WGA members packed into the Public House, a bar in the Los Angeles neighborhood of Los Feliz, for a face-to-face networking "mixer" organized by writer-producer Daniel Zucker. Eventually overflowing into the bar next door when the Public House reached capacity, the event was heavily promoted on Instagram and Twitter through the hashtag #WGAMIX. "Every job I ever got was thanks to networking," Zucker wrote on the original social media invitation. "Now it's up to us to meet & help our new friends. That's why I'm starting #WGAMIX … Come out, network then host your own."
Although not officially sanctioned or promoted by the WGA, civic-minded showrunners and higher-level writers have been organizing similar efforts since mid-April. According to Agustin, who has attended one of these mixers, they have become a forum where writers uneasy about having fired their agents can find solidarity and share information about the ongoing negotiations.
"The few people who are nervous about it haven't been rightfully informed," Agustin says. "So many writers haven't had the luxury of being in the writers room where we're talking and communicating with one another on a daily basis. If you're sitting by yourself at home at a computer reading what both sides are saying, you might be scared."
But according to the 30-something writer of color — who went to a networking event organized by African-American showrunners, which was attended primarily by many women writers and writers of color earlier this month — mixers are a pale substitute for agent representation.
"Whether the mixers are going to work, I just don't know," the writer says. "It was mostly staff writers. I saw maybe four showrunners. So that was worrisome to me. It felt impersonal. I talked to one showrunner but it didn't feel like networking. More like, 'Let's talk about everything that's going on. Let's follow each other on Twitter.' That's a connection, so that's good. But the feedback some of us could give to the WGA is, 'Let's make it more specific. Maybe stop calling them mixers and let's make them all about staffing, where we talk about work.'"