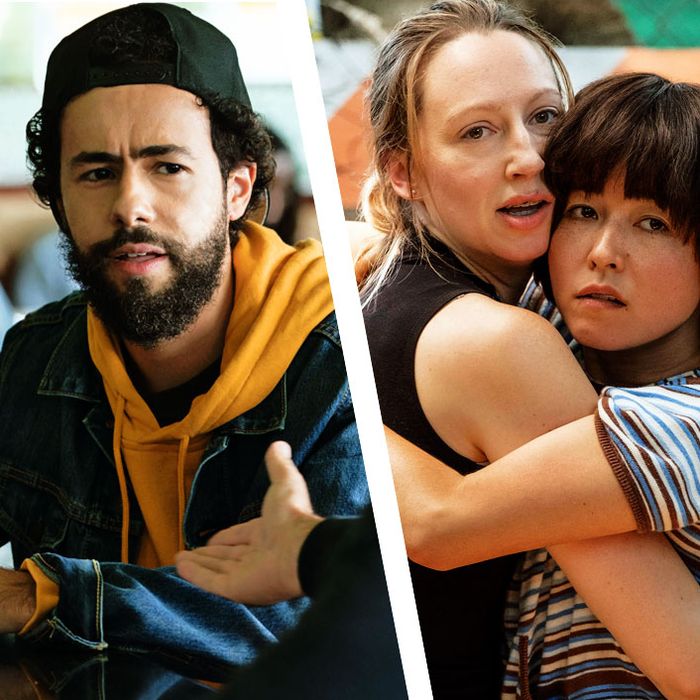 Ramy
,
PEN15
, and
Shrill
.
Photo: Hulu and Vulture
Something funny is happening at Hulu. The streaming network whose original output had heretofore been best defined by the grim drama of The Handmaid's Tale has spent the first few months of 2019 rolling out one buzzworthy new half-hour comedy after another. The February release of middle-school memoir PEN15 was followed in March with the Aidy Bryant–led adaptation of author Lindy West's Shrill and in April by comic Ramy Youssef's Ramy, a semi-autographical examination of what it's like to be Muslim and a millennial. Hulu doesn't release viewing statistics, but critics have been ecstatic about the newcomers and sophomore seasons seem highly likely. (Indeed, Shrill has already snagged a renewal.) All three shows also figure, in varying degrees, to be a part of the award-season conversation leading up to July's announcement of Emmy nominations.
Overseeing Hulu's 2019 comedy boomlet is Craig Erwich, a TV-industry veteran who's headed up original content at the streaming network since 2014 and has been a key part of its recent growth surge (it added 8 million subscribers in 2018, ending last year with 25 million subscribers). The former Fox and Warner Bros. exec rightly pushes back on any suggestion Hulu hasn't had success in the comedy space before now: In addition to making 50 episodes of The Mindy Project after Fox killed the show, the streamer's Casual, Difficult People, and still-in-production Future Man all found audiences, he says. The release of these three highly acclaimed newcomers signals a new era of auteur-driven comedy originals at Hulu, one with the potential to boost the streamer's comedy brand in much the same way Handmaid's Tale changed the perception of its dramas. Ahead of Hulu's "newfront" presentation to advertisers Wednesday, Vulture talked to Erwich about how these new shows came to be, why they were all rolled out in proximity to one another, and what's next on the network's comedy space. Our conversation also touched on some non-comedy topics, including the upcoming revivals of Veronica Mars and Animaniacs, the new true-crime limited series The Act, and what (if any) effect Disney's taking ownership control of Hulu will have on future development plans.
All three of the new comedies you've launched in 2019 have debuted to great reviews and buzz. When you were putting together this slate, was there something specific you wanted to lean into?
It's a few things. You want shows that are relevant. You want shows that reflect the culture. You want to hear people talking about them on line at Starbucks. We're not looking to do much niche programming, but one of the ways I really know we've hit it is when I see our shows being written about not in the entertainment section but in the style or politics sections or in the New Yorker.
The other thing we talk about is making sure that any of our originals have a degree of relevancy to them and are about something. Entertainment first, right? But when you look at PEN15 and sexuality from the point of view of girls versus boys, that's something. Shrill certainly had something to say. That was core to the premise of the show. Ramy was highly relevant: It's,
"How do you be a person of faith and a millennial?" So those are ingredients that we look for.
Is it also about driving sign-ups?
Yeah, you have to create something of value. You have to create a reason for people to talk about it. These shows all go toward building up Hulu as a brand that people have to have in their lives.
A lot of your other success had been with dramas. Did it just seem like now was a good time to put more of an emphasis on comedies?
Well, there's a huge opportunity for original comedy on Hulu, given the preexisting massive comedy audience that we have around shows like Brooklyn Nine-Nine and Mindy and Goldbergs and Black-ish and our adult animation shows like South Park and Family Guy. So, that's No. 1: There's a base of viewership that can launch success.
I assume, as with other streaming services, some of your choices are informed by data. Based on several years' worth of audiences watching Hulu comedies, did the data tell you anything that led to these shows getting made?
Here's what our data tells us: It tells us that each of our viewers has a lot of different needs, so we have to provide a broad array of programming for them. No two viewers are alike, and each viewer might have different tastes, depending on the mood or the place that they're in. So one of the jobs of our originals is to provide a broad slate. If you look at where we've had success on our original slate, starting with some of the early ones like Difficult People or The Handmaid's Tale or The Looming Tower, they've all been able to be highly entertaining but also break through the clutter by having touch-points for what's in the news or what's in the culture.
So I don't know how many people watched Difficult People or Casual, because you don't give out ratings. Those shows both got pretty good reviews, but it does seem like this batch of comedies is generating a lot more of that buzz you want. Why do you think that is?
Hulu has had massive growth over the last few years. We added 8 million subscribers. Last year, we were the fastest-growing streaming service. So it gives you a massive sample size for these shows to weave themselves into the fabric of popular culture. Hulu, at 8 million subscribers with Difficult People, probably was able to generate a little less noise and conversation than Hulu at our last announced number of 25 million. You basically have converted and deputized more evangelists for Hulu and for the shows that we're championing.
Did you learn any lessons from those earlier Hulu comedies about what works or doesn't work?
The lessons that we've learned are the lessons that you have to be reminded of over and over and over again, no matter how long you do this: Look for a pure, authentic voice and a piece of talent that can deliver a very focused story for the viewer. Ramy and Shrill and PEN15—all those shows exist for a reason. The other thing that we've learned is, each show has to be the best version of itself. We're not looking to put every show into one brand, or make it for one segment [of the audience]. We just want them to be the most fully realized versions of themselves. That's where we've had the greatest programming success.
Is it a coincidence that all three of these new comedies are created or co-created by millennials and are about millennial lives?
I can tell you this: Generation and demographic are usually the last things that enter into our conversations around development and programming. With Ramy, being a millennial was very specific to the theme of the show. On the other shows, the fact that the creators may have fallen into the category of millennials was quite frankly incidental. Because not all millennials are created equal in terms of creators, and not all millennials watch the same thing.
You said you're not looking to serve niche audiences with your shows. But how much of your philosophy mirrors that of HBO before Netflix came around, where getting Emmy voters and critics and sites like Vulture really excited about programming was often just as important as ratings?
Critics are one input, but they are not the sole or only or even first input. We are looking to be entertainment first. We're looking for the fans of the shows to be highly engaged; we want them to watch a lot of these shows. Look at The Act, for instance. That show has multiple audiences. Generationally, it's a mother-daughter story. Genre-wise, it's for true-crime fans. And critics have really flocked to it. So we made that show for a bunch of audiences, and we've been really successful at satisfying each of them.
You've already ordered a second season of Shrill. What can you say about renewals for PEN15 and Ramy?
I would say the prospects of PEN15 are looking very promising. Ramy just premiered.
I know Ramy is pretty new to the service, but second seasons are pretty normal for Hulu shows, no?
Well, we don't give second seasons as a standard operating procedure. You see us give second seasons to shows that have served the objectives of our originals. Either they've got a sizable and engaged audience, [or] it's somehow enhanced the Hulu brand through the quality and quantity of the conversation.
What's the backstory for Shrill, PEN15, and Ramy landing at Hulu? Was it all about internal development, or did you simply bid the most?
I would say that the through-line is empowered and passionate executives and talent who demanded that these stories be told. In the instance of PEN15, that was a preexisting presentation that our comedy executive Billy Rosenberg had worked on, and he was relentless in getting it picked up at Hulu. With Shrill, they came in and talked about this incredibly funny commercial comedy that was also deeply relevant and provocative in the way they used the word fat and wanting to take ownership of that word. That was a show we knew we had to have. There is a tradition of some success here with female-driven comedies. We were looking for the heir to The Mindy Project, and that was one of them. I also wanted to be in business with world-class talent Aidy [Bryant], Lindy [West] and Ali [Rushfield]. And with Ramy, this was a guy who demanded to have his voice heard and to make the show as he knew how to make it because he's lived this life.
Were other outlets competing for any of these shows?
I know that there were many people who wanted Ramy. We gave him the resources to actually go out and make something, which I believe was attractive for him. It's a very competitive marketplace. At any given time, there are multiple bidders on shows, and we are competitive on a daily basis. But it has to be driven by our passion and our belief. We're not competitive for the sake of winning something.
You don't just write checks.
Well, we're happy to write checks for the must-have talent and the must-have stories.
I'm not trying to say money isn't always a big consideration. I know creators don't just come to Hulu because of Craig Erwich's smiling face.
No, they don't, but I will say this: I don't think it's just money. You have to create an environment where people can do their best work. When you talk about the success of Casual and Difficult People, we made a good environment for those creators. The other thing that's really important is that we market our shows. We're out there telling the world, "Hey, we're really excited about this."
I'm curious about the marketing strategy behind the launches of these three comedies. Did you purposely release them within the same roughly three-month period to build momentum?
We were intentional in how we released them, knowing that fans of PEN15 were also likely to be fans of Shrill and of course Ramy. We knew, over the course of these few months, we could aggregate a really unique and special viewing experience for the sizable comedy audience that we have.
The Handmaid's Tale was an instant awards-season player after its first season. How intense will your Emmy campaigns be for the half-hours?
We're going to be aggressive where appropriate. It is no secret it's a very competitive game. Emmys and nominations are definitely a validation.
Will the next batch of comedies you're developing for Hulu be dramatically different from the ones you just rolled out? Or will you try to launch more shows similar in tone since these seem to be working well?
Our goal is always to surprise people through freshness of voice and discovering the next generation of talent. I'll give you an example: A show that was very successful for us, that we've ordered season three for, is Future Man. That's a very different kind of comedy [than PEN15, Shrill, and Ramy]. They all ladder up to our real main purpose, which is just to serve a variety of different types of shows to a variety of tastes for a wide variety of our viewers.
What about a multi-camera comedy? Your library includes a lot of really successful traditional half-hours such as The Golden Girls. Is that kind of comedy something that's on the agenda?
We are agnostic of form, so we don't make a distinction between multi-camera or single camera. It's really, "What's the show about?" And we have some of the great multi-camera sitcoms of all time on Hulu that new generations are discovering. I don't think that's how people make viewing decisions. So, yes: Right creator, right show? We would happily do a multi-cam.
Anything in development on that front?
We have some in development. We haven't greenlit any.
Will you roll out any more new comedies this year, or have you launched everything you planned for 2019?
That's all we have really scheduled in terms of the pipeline for 2019. But again, given the demands for comedy from our audience, we're being very aggressive about our development efforts. There are Hulu viewers who love comedy. That's what they want to watch most of the time. And we need to make sure that they're happy.
One of your first original comedies was The Awesomes, which was an adult animation show. I know Animaniacs is coming back via Hulu, but will you be doing more adult animated comedies?
Well, we have probably the best collection of animation anywhere. South Park, Family Guy, Bob's Burgers, Rick and Morty, to name a few. There is a massive hunger and appreciation for that form. It certainly creates opportunities to launch the next generation of hits. And we will continue to be aggressive and selective about what we undertake.
How is Animaniacs coming along?
I saw the first animatic and I loved it. You know, Animaniacs was originally a show that kids and their parents could watch together. And I think this new incarnation of it is going to do exactly the same.
Let's move on to some other areas. The Act has done very well, based on the information you've released about it. Is that going to continue as a franchise for Hulu with new installments of the anthology?
The Act was developed as a stand-alone story, with the option to do other true-crime stories under that banner. It's been massively successful. And while you can never kind of exactly diagnose what makes anything successful, certainly another signature true-crime show for Hulu would be a huge opportunity. If we can find a story that measures up to the "oh my God" of season one of The Act, we'll certainly be aggressive about that.
Would you keep the name and producers?
It really depends on the details. Our focus right now is, "What's that story?" We could develop that story outside of that banner with other producers. The title, the franchise, the organizing principle of the franchise is not going to drive the decision.
You've announced the Veronica Mars revival will debut this summer. How's it looking?
I think this show will reinforce what people fell in love with the first time and why Kristen Bell is one of the biggest television stars today. We've ordered a limited run of it.
Do you think there will be more installments beyond what's coming this summer?
It is a wholly contained storytelling experience in season one. But like the original, if there's demand for more, and if Rob Thomas and Kristen Bell have a way to tackle it and are available, we're certainly open to that.
The Handmaid's Tale is also returning this summer for season three. What's your thinking right now on how long that series goes?
The story and the characters will tell us and lead us to the right decision. Right now, I think they're incredibly vibrant and vital. There are things in season three that are going to astound people. The franchise is at the top of its game. Gilead is a very complicated and multidimensional world that's going to allow for a lot of different types of stories to be told for a while.
I know it's early days and technically not much has changed yet, but Disney now has operational control of Hulu and may be on track to take full ownership of the service. What do you think this will mean for Hulu?
It provides a tremendous opportunity for Hulu. The Walt Disney Company has been tremendously supportive of both our strategy and of our momentum. You don't become the fastest growing SVOD service last year without the support of and alignment with your owners. You look at that combined capacity and bench strength of talent that this new operation has, and we're eager to tap into it.
This is a bit of a left-field question, but is Hulu disadvantaged by the fact that there are ads on your shows, unless subscribers pay for the ad-free level? Even if you offer the same creative freedom as other services, creators at Hulu have to write to ad breaks while those on HBO or Showtime or Netflix don't. Have creators ever cited that as a reason for taking their show elsewhere?
It never comes up in conversation. And I think the reason is that for many years — the majority of the history of television—an ad-supported environment has never been an obstacle towards quality. ER, The West Wing, Mad Men, Breaking Bad — those were all on ad-supported platforms, and those are all some of the great shows of our time. So I don't think it's an impediment towards creativity.
Broadcast networks sometimes cite advertiser objections as reasons to not allow creators to explore certain themes or even use certain language. Have you ever had to alter your content on Hulu because of advertiser pushback?
We're all about giving choice to our customers, whether the customers are the viewer or the advertiser. If there are advertisers who want to opt out of more mature content, we can facilitate that. But quite frankly, most advertisers want to be associated with a platform that is producing originals at that quality that we are, and therefore it's really not much of an issue.