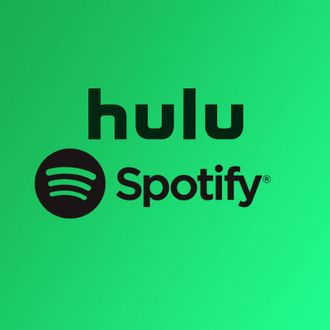 I believe it was the great Ann Dowd who once said, "Hulu."
And how right she was. The streaming service that brought us Dowd in The Handmaid's Tale has been on an original-programming streak recently, finding its place in the true-crime wave with The Act and renewing Shrill for a second season (though we're still waiting on a similar announcement for PEN15). It also has the entire Twilight Saga, which for many (me) is essential viewing. However, based on how many people I know who haven't seen Ramy yet and use a lack of Hulu as an excuse, it seems like there are many streamers out there who are not heeding Dowd's words.
So consider this a PSA about a limited-time Huloophole that can help you access the streaming service for cheap or even free depending on your current subscriptions. In mid-March, Spotify launched a bundle deal for new and existing Spotify Premium subscribers that also grants access to Hulu's ad-supported tier for $10 a month, total. Normally, a Spotify Premium subscription runs $9.99 a month, and Hulu's ad-supported service rate is $5.99, making this not only a very decent deal, but one less subscription to worry about, as the two get billed together.
If you don't already subscribe to Spotify Premium (which has Lemonade now, did you hear?), all you'll have to do is go here to sign up for both at once. If you are a subscriber, there are a few different ways to access the bundle. If you have a regular Spotify Premium account, you can add Hulu here. If you are on Spotify's Student plan or Family plan, you'll either have to graduate or tell your roommates to stop freeloading, as the Hulu add-on won't apply to these. And if you're already paying for both Spotify and Hulu? Firstly, okay, brag? More importantly, you may still qualify for the bundle, you just have to make sure to go into your payment settings on Hulu and switch billing over to Spotify after registering — that is, if you currently have the ad-supported Hulu tier. Hulu subscribers who are already paying for the ad-free tier, or any channel add-ons, are ineligible for the bundle.
For everyone else, though, the offer is only available until June 10, so sign up now, and for the love of quality programming, watch Ramy already.