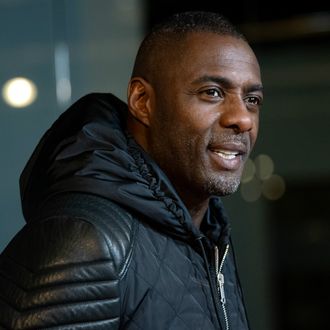 Idris Elba.
Photo: Emma McIntyre/Getty Images
Does anybody have the number for Jared Leto's pig-carcass guy? There's a new actor who needs one of his classic Suicide Squad welcomes, now that Idris Elba is potentially joining the crew. According to The Hollywood Reporter, the Luther actor is reportedly in talks to play assassin Deadshot after Will Smith bowed out of the upcoming movie last week due to scheduling problems. Directed by James Gunn, the Suicide sequel (Suicidequel?) is scheduled for release on August 6, 2021. Sure, it's no Bond casting, but if we had to guess, we'd assume the sardonic one-liner ratio is pretty much the same.
Update, April 5, 2019: Variety reports that Elba will not replace Will Smith as Deadshot, taking on an entirely new role instead. Sources told the trade that "all parties including director James Gunn have decided to move on from the Deadshot character." And even if the chances are small, those who conferred with Variety said tabling Smith's character leaves the door open for him to rejoin the franchise later on. The three confirmed returning cast members are Margot Robbie as Harley Quinn, Jai Courtney as Captain Boomerang, and Viola Davis as Amanda Waller. Gunn is in the process of casting his new hero villains.