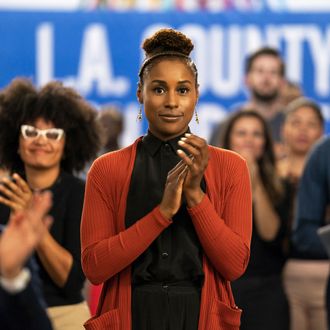 She's hella busy.
Photo: HBO
As Game of Thrones marches into its eighth and final season, HBO is busy making plans for its post-Westeros future. Now that the cable network has become part of WarnerMedia, it's releasing more content than ever, but we'll still have to wait for some fan favorites to come back. In an interview with Vulture's Josef Adalian, HBO programming chief Casey Bloys confirmed that Insecure won't be back for its fourth season until 2020, mostly because its star and creator Issa Rae has gotten hella busy.
"Well, Issa became a big movie star!" Bloys said of the actress, who's currently starring in Little alongside Regina Hall and Marsai Martin. "We're not the first place to deal with this, but when you're in business with very creative and talented people, there's a lot more opportunities for people to do things. Issa, I think, partly wanted a break to come back to it fresh."
The network isn't burning off Insecure, to be clear: It's betting it'll be just as strong, and potentially awards-worthy, when it returns to TV. "It wasn't exactly random that we ended up [scheduling the show] in the spring, right before Emmys," Bloys promised, "so that the show should get the Emmy love that it has deserved."
According to HBO's upcoming schedule, Larry David's Curb Your Enthusiasm won't be back until 2020 as well. Those comedian-writers, they take their time!
Josef Adalian contributed reporting.