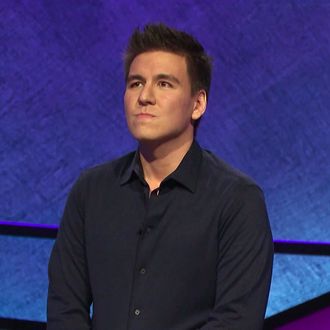 Answer: James Holzhauer. Question: Who is a millionaire?
Jeopardy! fans around the country are freaking out tonight, as Holzhauer, a professional gambler from Las Vegas, becomes the second player in the show's long history to win over a million dollars in regular-game play. After taking home $118,816 in Tuesday night's game — his second-highest single-game winnings so far, and the second-highest single-game winnings in Jeopardy! history — Holzhauer's 14-day total reached a massive $1,061,554. Jeopardy! GOAT Ken Jennings was the first player to hit a million, which he reached in his 32nd game. Tonight, Holzhauer has done it in just 14 games.
Before reaching the million-dollar mark, Holzhauer was already crushing Jeopardy! records. He holds the top seven spots in highest single-game winnings, is fourth in consecutive games won, and second in total regular-game earnings. After this win, Holzhauer's on track to break Jennings's highest regular-game earnings record of $2.5 million in just 33 games — less than half what it took Jennings to acquire the hefty sum. (Jennings says he's "gobsmacked" by Holzhauer's "absolutely insane" run so far.) He's racked up huge wins with a specialized style of play that involves tackling the high-value questions first and betting big on Daily Doubles and Final Jeopardy.
The only problem with his high-roller strategy? Holzhauer seems to be running out of friends and family to give shout-outs to under his Final Jeopardy answers.