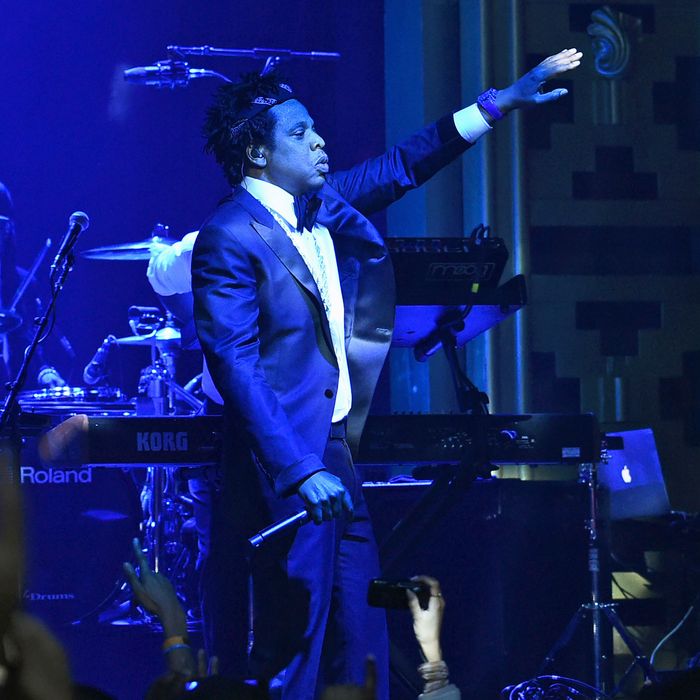 B-Sides 2 delivered proof that it's possible to grow and maintain a career so strong anything you play on stage gets a reaction.
Photo: Theo Wargo/Getty Images for Roc Nation
The greatest American gangster stories play out like ancient tragedies. You meet a character whose skill exceeds his station and watch as his wit becomes wealth. Eventually, his ambition spoils. Pride becomes paranoia. He makes mistakes. He loses his way. Smart American rappers upend this narrative. They play the game enough to gain the leverage to change their circumstances, and then they cash out before the fates exact their grisly price. Jay-Z's transformation from hustler to businessman, activist, and friend to politicians defies the accepted wisdom about career trajectories for enterprising young inner-city men, but nearly 25 years after his 1996 debut album Reasonable Doubt, Jay's continued prosperity and expanding business portfolio have also upheaved the possibilities for rich and famous rappers entering their third act. The real genius of it is the ability to keep the man grounded in the circumstances of his come-up even as he holds court with titans of industry.
It's easy to miss some of this grit at a live show. Jay-Z has prospered as a hitmaker long enough to be a mainstay at stadiums and festivals. At these shows, the set list is a nearly ceaseless 90-minute stream of celebratory chart toppers (mixed with a handful of old crowd favorites). The feel-good, self-mythologizing records only tell part of the story. The drive and uncertainty and nerve required to get to the big hits shines brightest in the deep cuts. Jay's B-Sides shows give audiences a chance to visit the journey from drug dealer to all-caps A-lister verse by harrowing verse. They also illuminate what a brilliant wordsmith, thinker, and performer he is. B-Sides 2, which reopened the renovated Webster Hall in Manhattan over the weekend, celebrated the rich history and keen wit of one of music's sharpest storytellers, a writer so sick with it that the Songwriters Hall of Fame broke its decades-long tradition of dismissing rappers.
B-Sides 2 dug deep, revisiting old album cuts, mixtape freestyles, soundtrack loosies, and guest verses. Exhuming songs people might've forgotten drew connections between bits of the back catalogue that we might not think to link. One visionary stretch chased the Jay and Pharrell highlights "So Ambitious" and "Allure" with "This Life Forever," from Black Gangster, the soundtrack for a 1999 film adaptation of the Donald Goines novel of the same name, released 25 years after the author's death. Performed in a row, the three songs drew a through line from the haughty street smarts of the In My Lifetime series to the slick opulence of The Blueprint 3. Similarly, the pairing of the 4:44 bonus cut "Adnis" and The Blueprint closer "Blueprint (Momma Loves Me)" pondered the effects of Jay's family history on the man he became.
The night's most memorable bits might be the guest appearances. Nas dropped in for their American Gangster teamup "Success" and stuck around for a once-in-a-lifetime mash-up of the Queens rapper's "The World Is Yours" and the Brooklyn rapper's "Dead Presidents." The two songs were once a major point of contention in the duo's legendary war of words, when Jay's "Takeover" turned the Reasonable Doubt track's Nas sample into a quip: "You made it a hot line, I made it a hot song." At B-Sides 2, the mutual respect between the two was palpable as each played hype man on the other's song. Cam'ron appeared for the Come Home With Me cut "Welcome to New York City," putting a public end to a nearly two-decade rift that opened up as relations between Jay, Roc-a-fella Records co-founder Dame Dash, and Cam'ron's Diplomats soured, ending the dynasty by splitting the roster in two. (You could tell these moments were special by former Roc-a-fella in-house producer Just Blaze's reaction. When people onstage are just as thrilled to be present as the people in the crowd, you're having an unforgettable night.)
This display of affection for peers Jay once saw as adversaries goes to show that the ideas about black unity he's been expressing in the 4:44 era aren't just lip service. In a freestyle dedicated to the late Nipsey Hussle performed at the end of The Blueprint II's "Some How, Some Way," the message was driven home in detail:
"The neighborhood is designed to keep us trapped / They redline us, so property declines if you live by blacks / They depress the assets and take the property back / It's a ruthless, but a genius plan, in fact / So now we fighting over scraps / Crabs in a barrel, but crabs don't belong in the barrel / They ain't never tell us that / So in the barrel, we gonna act like we act / We can easily get out the barrel if we stand on each other's back."
The freestyle painted Jay not only as a crafty capitalist with lofty ideas about a better tomorrow, but also as a rhymer whose impeccable timing and phrasing make lyrics feel off-the-cuff and conversational. The howl the audience raised after each line was proof the words were well-received.
Some of the show actually was off the cuff. Toward the end of the night, Jay asked his friend and engineer Young Guru to drop the needle on some songs he would have to rap from memory. He didn't miss a step shifting from the formal backing of a live band to a battery of surprise beat drops from a DJ. Live hip-hop shows in the trap era get a bad rap for undervaluing craft. Too many of them are propped up by backing tracks and fans' enthusiasm. Sometimes, you come to see an artist go to work, and you get something more like a club appearance instead, with the performer treating the event like a communal dance party rather than a place where they're meant to impress you with their skills. (The approach is not without its merits, but the feeling that shows like those take the shape they do because more and more young rap stars blow up before they get a chance to work out a live show is hard to shake.) In gambling on the reverence of a small audience and the magnetism of a veteran who drops jaws even in songs he's never played on stage before, B-Sides 2 delivered proof that you don't need hits to rock a crowd, that it's possible to grow and maintain a career so strong anything you play onstage gets a reaction. As Jay told the crowd when he dropped the Black Album favorite "Lucifer," he can't help it if his B sides are A sides.