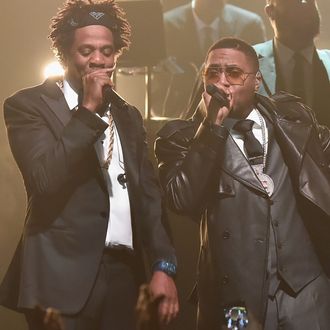 Jay-Z and Nas.
Photo: Theo Wargo/Getty Images for Roc Nation
Webster Hall got one hell of a reopening night on Friday thanks to Jay-Z, who blessed the New York institution with an intimate (and, we're assuming, expensive) gig with a little help from his friends. (Hello, old arch-enemy Nas!) Busting out the tried and true hits and rekindling with his foes aside, perhaps the evening's most significant moment came when Jay-Z eulogized West Coast rapper Nipsey Hussle, who was shot and killed earlier this month outside his clothing store in Los Angeles. With a new freestyle rap as his medium, Jay-Z laid it all out.
"Gentrify your own hood before these people do it / Claim eminent domain and have your people move in / That's a small glimpse into what Nipsey was doing. I told Neighborhood Nipsey stay close / There's $100 million on your schedule, lay low / Tell your team to be on point in the places that they go / I never dreamed he'd get killed in the place that he calls home."
But why bother transcribing when you can listen to it yourself.
A man named Eric Holder has been charged for the murder of Nipsey Hussle as well as for shooting and injuring two other men during the incident. (Specifically, Holder is being charged with one count of murder, two counts of attempted murder, and one count of possession of a firearm by a felon.) He faces a possible maximum sentence of life in prison. Holder's attorney has since entered a "not guilty" plea on his client's behalf.