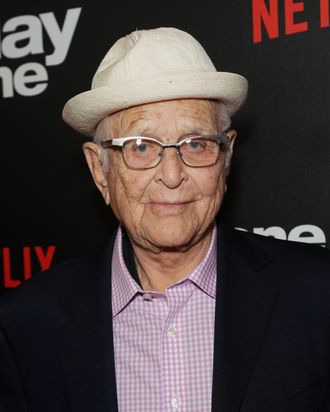 Photo: Jc Olivera/Getty Images
Jimmy Kimmel announced on his show that he is bringing two Norman Lear classics back to ABC. Episodes of All in the Family and The Jeffersons are being remade with a star-studded cast for a live 90-minute special. Lear and Kimmel will co-host the event, directed by sitcom MVP Jim Burrows. Live in Front of a Studio Audience: Norman Lear's All in the Family and The Jeffersons was brought to life by Kimmel, Lear, Will Ferrell, Adam McKay, Brent Miller, and Justin Theroux. Vulture reported on the project two years ago, commenting on Theroux's deep involvement with sitcoms at the time (producing this event and being married to Friends star Jennifer Aniston). In the time that's passed, we've not only seen the divorce of Theroux and Aniston but the end of the professional relationship between McKay and Ferrell and the cancellation of Lear's One Day at a Time reboot.
Woody Harrelson will be playing Archie Bunker, with Marisa Tomei stifling already as Edith and Ellie Kemper as their daughter Gloria. George and Weezy will be played by Jaimie Foxx and Wanda Sykes, respectively. One Day at a Time's Justina Machado will play Florence Johnston, and Will Ferrell will serve double duty by executive producing and playing Tom Willis. "The fact that a group of Oscar winners eagerly agreed to play these iconic characters is a testament to the greatness of these shows and their creator, Norman Lear," said Kimmel in a statement. To be a part of this is a dream come true for me and for everyone involved." The special will air live on May 22.