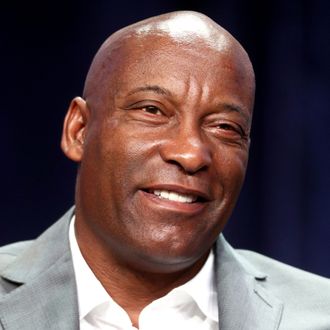 John Singleton.
Photo: Frederick M. Brown/Getty Images
John Singleton, the first black filmmaker nominated for the Best Director Oscar, has died. "It is with heavy hearts we announce that our beloved son, father and friend, John Daniel Singleton will be taken off of life support today," said a statement from Singleton's publicist Monday morning, according to the New York Times. "This was an agonizing decision, one that our family made, over a number of days, with the careful counsel of John's doctors." Earlier this month, Singleton suffered a major stroke, and was in a coma. Singleton was 51.
"John passed away peacefully, surrounded by his family and friends. We want to thank the amazing doctors at Cedars-Sinai Hospital for their expert care and kindness and we again want thank all of John's fans, friends and colleagues for all of the love and support they showed him during this difficult time," the Singleton family said in a statement to The Hollywood Reporter.
Singleton wrote and directed Boyz n the Hood and Poetic Justice, among other films. In 1992, for Boyz n the Hood, Singleton earned Oscar nominations for Best Director and Best Original Screenplay. At the age of 24, he was the first African-American director, and youngest director ever, to score the directing nomination. Boyz n the Hood was a personal story for the filmmaker, who grew up in South Central Los Angeles, where the film was set, and who "made it" almost immediately after graduating from the University of Southern California's School of Cinematic Arts. Boyz, which debuted at the Cannes Film Festival, has since been preserved in the Library of Congress's National Film Registry.
Following Higher Learning, and a pair of Michael Jackson videos ("Dangerous" and "Remember the Time"), Singleton transitioned from contemporary urban stories to the period piece Rosewood, about an African-American community terrorized by a lynch mob in the early 1920s, before moving into bigger-budget action-oriented films. He helmed the Samuel L. Jackson–starring Shaft reboot in 2000, and then briefly joined one of the most enduring franchises in cinema history to direct 2 Fast 2 Furious in 2003. He went on to combine screen thrills with a return to community and family-focused drama with Four Brothers, before TV became his primary focus.
Through his early work in the 1990s, Singleton also helped launch the film careers of talents like Regina King, Cuba Gooding Jr., Ice Cube, Tyrese, and Taraji P. Henson. From his earliest filmmaking days, Singleton was a pioneer who pushed black voices forward in cinema. He advocated for putting the stories of black Americans in the hands of filmmakers who lived them and shared a cultural connection, and in a 2013 column for The Hollywood Reporter, Singleton wrote, "What Hollywood execs need to realize is that black-themed stories appeal to the mainstream because they are uniquely American. Our story reminds audiences of struggles and triumphs, dreams and aspirations we all share. And it is only by conveying the particulars of African-American life that our narrative become universal. But making black movies without real participation by black filmmakers is tantamount to cooking a pot of gumbo without the 'roux.' And if you don't know offhand what 'roux' is, you shouldn't be making a black film."
In recent years, Singleton was an executive producer on the critically acclaimed FX series Snowfall — which has its third season on the way later this year — and directed episodes of Billions, Empire, and The People v. O. J. Simpson: American Crime Story. In a statement from his family announcing the removal of life support, they wrote, "John was such a supernova in his youth that we forget that he was only beginning to fully assert his gifts as a director." The letter continued, "As much as we will treasure his body of work, we were looking forward to the films John would have made in the years ahead."