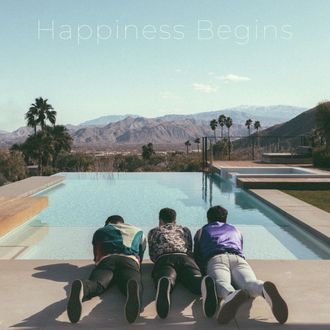 Jonas Brothers'
Happiness Begins
cover.
Photo: jonasbrothers/Instagram
Eternal heartthrobs Nick, Joe, and Kevin will release their first album in six years as the Jonas Brothers. The album, titled Happiness Begins, was announced today via a butt-forward image on the group's Instagram, and is set for release on June 7. That's only two months until we get more bops like the already released singles "Sucker" and "Cool" and hopefully more music videos with their superhot wives Sophie, Priyanka, and Danielle. "Sucker" topped the Billboard charts in March, which 2008's "Burnin' Up" absolutely deserved but somehow never achieved.
The album announcement comes after a visit to The Late Late Show With James Corden and a revealing Carpool Karaoke where Nick admitted that he broke up the band but also got them back together (there was also a lie-detector test). During their almost weeklong takeover of the show, James tested the boys' bonds. They ate some really gross food, poked fun at Nick and Priyanka's multiple weddings, and had their minds blown by a mentalist. An untitled Amazon documentary on their decision to reunite is also in the works. The amount of content coming our way just might be enough to forgive the six years without much needed Jo Bro music.
This reunion is the trio's third go as a group following their initial run from 2005 to 2010 and brief stint from 2012 to 2013. Hopefully third time's the charm and we'll have an album filled with songs to jam to all summer long.