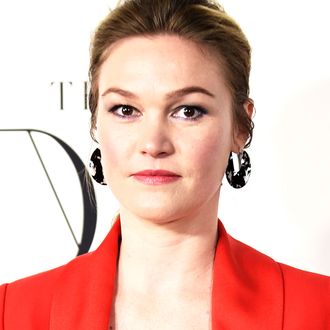 Photo: Dimitrios Kambouris/Getty Images for DVF Awards
Bob Woodward got Robert Redford. Glenn Greenwald got Zachary Quinto. I will (one day) demand Zoë Kravitz, but ultimately settle for Amandla Stenberg. New York's own Jessica Pressler, however, gets Julia Stiles! In the big-screen adaptation of the viral New York Magazine article "The Hustlers at Scores" — which will also star J.Lo, Constance Wu, and Riverdale's Lili Reinhart — Julia Stiles told Entertainment Tonight that she will portray the article's reporter.
"I play Jessica Pressler, who is the journalist who covered the story, and so I interview all of the dancers," Stiles told ET, adding that the Pressler character lived a "straight-and-narrow life" compared to the dancers. (Obviously she has not read my esteemed colleague's Gossip Girl recaps, which are iconic.) Stiles says Pressler initially judged the women, strippers who schemed and scammed their Wall Street clients out of money. "She then comes around to really sympathizing and understanding the position that they were in that made them resort to this, and also kind of appreciating — its a dangerous thing to say — that these women were entrepreneurs." See Hustlers in theaters next year.