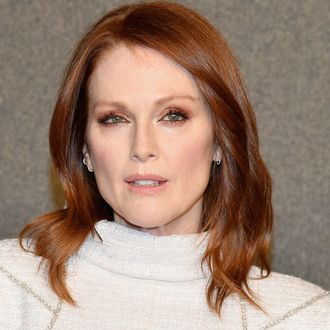 Julianne Moore.
Photo: ANGELA WEISS/AFP/Getty Images
Okay, technically, this isn't Julianne Moore's first trip into the Stephen King universe, but honestly, did you even remember she played Margaret White in the 2013 adaptation of Carrie? Of course you did, because you're a Stephen King superfan. That's also why you're amped to learn Moore will star in Apple's upcoming Lisey's Story limited series, based on King's 2006 horror-romance novel. Much like Hulu's Castlerock, Lisey's Story will be produced by J.J. Abrams's Bad Robot Productions.
Moore will play the titular role of Lisey Landon, a woman who begins to uncover the terrible, fantastical, reality-bending truth about her author husband two years following his death. After basically speaking the series into existence by, you know, mentioning out loud how he's dying for a Lisey's Story adaptation, King is reportedly set to write all eight hour-long episodes of the show.