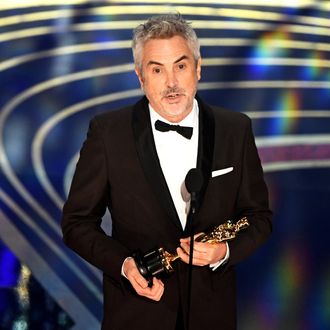 Photo: Valerie Macon /AFP/Getty Images
The Academy of Motion Pictures Arts and Sciences hasn't yet voted on whether it'll implement new eligibility rules that could shut out Netflix, but it's already getting a word of warning from a rather unexpected source: the U.S. Department of Justice! According to Variety, the chief of the DOJ's Antitrust Division sent a letter to Academy CEO Dawn Hudson on March 21 warning that potential rule changes limiting the eligibility of Netflix movies in Oscar competition might just be against the law. "In the event that the Academy — an association that includes multiple competitors in its membership — establishes certain eligibility requirements for the Oscars that eliminate competition without procompetitive justification, such conduct may raise antitrust concerns," wrote Assistant Attorney General for the Antitrust Division Makan Delrahim.
An Academy spokesperson confirmed to Variety that they'd gotten the notice: "We've received a letter from the Dept. of Justice and have responded accordingly. The Academy's Board of Governors will meet on April 23 for its annual awards rules meeting, where all branches submit possible updates for consideration."
The DOJ's letter was prompted by news reports that Steven Spielberg, an Academy board member, plans to rally against Netflix at the Board of Governors meeting. The director reportedly plans to propose changes to disqualify films from Netflix and other streaming platforms from Oscar consideration. Spielberg has previously harrumphed that Netflix movies don't deserve Oscars, they can just settle for Emmys.