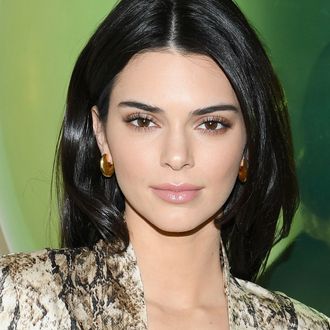 Kendall Jenner.
Photo: Dimitrios Kambouris/Getty Images
It's hard to believe that those infamous cheese sandwiches and FEMA tents ravaged Fyre Festival's "luxury" Bahamian grounds two whole years ago, spurring a disaster that made Lord of the Flies look pretty enticing in comparison. The festival's initial FOMO, sellout success was due to a bunch of popular models and influencers advertising Fyre all over social media with sponsored posts, which included the likes of Emily Ratajkowski, Bella Hadid, and yes, Kendall Jenner. (All of whom never planned to actually attend.) Perhaps still reeling from that Pepsi fiasco, mum has been the word from Jenner ever since the festival ended in catastrophic fashion — she was reportedly paid $250,000 in advertising fees — but in a New York Times interview, she's now admitting that she could've done a bit more vetting to compliment her massive pay day, although vetting can be hard, man.
"You get reached out to by people to, whether it be to promote or help or whatever, and you never know how these things are going to turn out, sometimes it's a risk," she explained. "I definitely do as much research as I can, but sometimes there isn't much research you can do because it's a starting brand and you kind of have to have faith in it and hope it will work out the way people say it will." Even when Jenner trusts who she works with, "you never really know what's going to happen." Especially when you realize the festival's site was deemed uninhabitable from the beginning. Awkward!