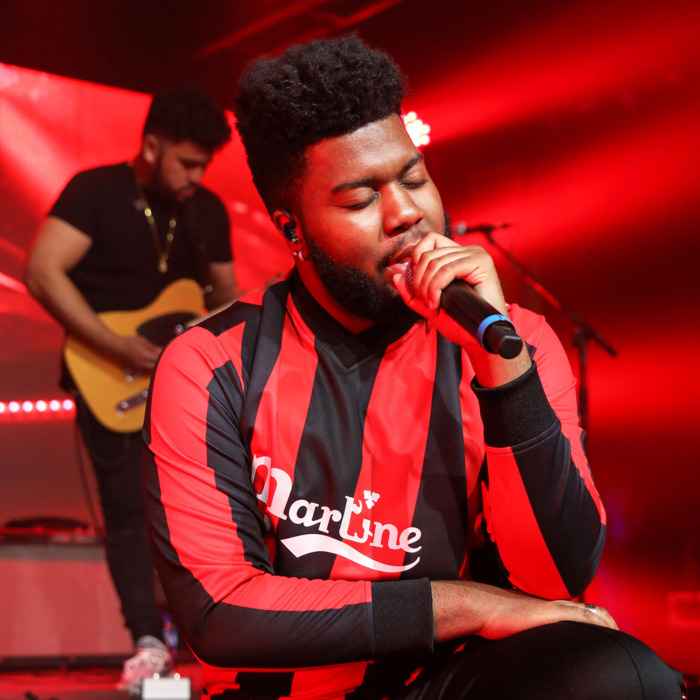 Khalid writes with intense honesty about the pitfalls of fame.
Depression and anxiety are mercenarily efficient conditions. They get you thinking you're only as strong as your most recent failings, that the worst you can feel is the best that life offers. Your mood sours, then you doubt yourself, then your creativity and productivity suffer, then you make mistakes that make your mood even worse. The spiral's hard to shake; sometimes thrashing around to make your escape just tires you out and traps you further. Comfort is a matter of monastic poise, militant daily routines, and therapy. Holding fast to all three can be hard to manage. Depression is a landlord that wants to keep you renting. It gets you stuck on stasis, fearful of movement and evolution.
Texas singer-songwriter Khalid Robinson tangles with the beast on his sophomore album Free Spirit. It's a stunning left turn. His 2017 debut album American Teen served a smart, charming hybrid of soul and pop that picked up where the Everyman concerns of early Frank Ocean records left off. "Location" and "Young Dumb & Broke" are the kinds of tunes that Ocean might have landed on had he continued down the Nostalgia, Ultra path of making moody, relatable, Zeitgeist-minded love songs instead of embracing a literary, Expressionist approach to writing on Blonde and Endless.
But there was more to Khalid than American Teen suggested. In interviews, he grappled with mental-health woes like stress, panic attacks, depression, and social anxiety. The seriousness of these conversations made American Teen seem light in the britches, like a singer writing songs he thinks people want to hear rather than hashing out what he feels it is imperative to say to them. Free Spirit doesn't waste a minute getting to the heart of the matter. In the album's intro, Khalid emotes in a blizzard of hurried sentences about a relationship going south: "I can't even live with being by myself / That's the part of me that really needs your help / Lately, I haven't been doing very well / That's the difference between heaven and hell."
Free Spirit is a battle between bad feelings and good intentions. "Don't Pretend," "Talk," and "My Bad" work hard at cutting down on distractions and miscommunications in a budding romance. The love songs are weary. The good cheer comes and goes. Free Spirit is the "fame sucks" album. "Bad Luck" rolls its eyes at fair-weather friends and freeloaders: "People only love you when they're needing your wealth / Damn, laying down, staring at my ceiling fan / Everybody acting like they give a damn / Where is everybody when you need a hand?" "Hundred" struggles to stay focused and positive in a rough patch: "Everybody's angry, and they're coming for me / But I can't give them energy that I won't receive."
Cataloging and unpacking what bothers Khalid is his path to freedom. In the fourth quarter of the album, a string of dark, reflective songs speaks nakedly and incisively to the nagging feeling that acknowledging a need for help and a yearning for guidance is a mark against a person's self-sufficiency. "Alive," "Self," and "Heaven" examine the scary thoughts that arise in a moment of self-doubt. "Does my raw emotion make me less of a man?" "Told everyone I turned my phone off / Didn't ask for help and now I'm lost." "Heaven, make me an offer / Lord, there's nothing left for me out here." It's tough stuff to hear coming from a singer who's only just turned 21. Popularity is a brutal gauntlet; if you're not feeling great when you step in the ring, you might find yourself getting rocked by hits that normally wouldn't faze you.
Khalid seems tired beyond his years but also exceptionally self-aware and determined to keep working and loving his way through his worst times. These qualities keep Free Spirit from caving to pessimism. The music is slick and summery in spite of its message. "Talk" gets its exuberant bounce from Khalid's lilting hook and Disclosure's pillowy trap beat. The dejected mood of "Hundred" is offset by peppy New Wave production. Collaborators Digi, Charlie Handsome, John Hill, and others bless Free Spirit with a foundation of uplift that the singer matches with performances that tap into a well of intense emotion without getting lost in it. Carefree pop/R&B tunes like "Right Back" and "Better" are reminders that Khalid can still crush happy-go-lucky radio fare when he wants. But he's looking at the bigger picture now, as Free Spirit's depth and expansive range bears out in 17 songs.
Khalid's honesty as a lyricist, his golden ear for beats and melodies, and his ambition in releasing a freewheeling 45-minute road-trip film to accompany the album are proof that he's not only on a quest to know himself. He's out to improve himself and unwilling to repeat himself. Free Spirit does the work of a good sophomore album: It builds on what came before it and opens up new avenues for the artist to pursue in the future. As Free Spirit unfolds, its title feels like less of a proclamation than a mission statement. This guy's headed as far as the open road can take him.