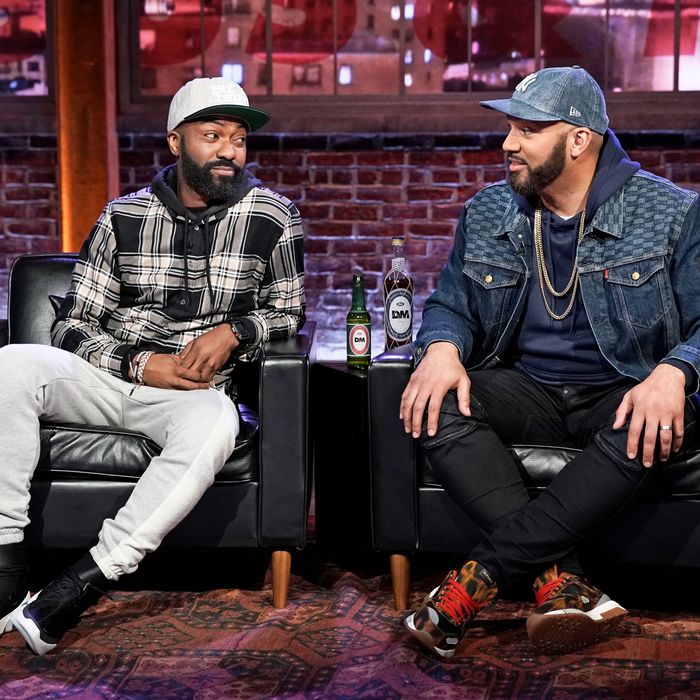 Showtime's
Desus & Mero.
Photo: Greg Endries/Showtime
The beef is strong. Earlier this week, Fox News' Tucker Carlson took a swipe at MSNBC's Chris Hayes after the latter hosted a town-hall interview with Alexandria Ocasio-Cortez to discuss her Green New Deal, saying Hayes is "what every man would be if feminists ever achieved absolute power in this country: apologetic, bespectacled, and deeply, deeply concerned about global warming and the patriarchal systems that cause it."
This did not sit well with Desus Nice and the Kid Mero, the Bronx natives who host "the No. 1 show in late night," Showtime's Desus & Mero. Desus knows Hayes from sixth grade, when they were students at Pablo Casals Middle School, but it was Mero who took the most umbrage. On Tuesday, he tweeted this:
That was just the beginning of three days of Mero taking on a horde of Twitter tough guys, telling them when, where, and how they could get duffed, BX-style. It involved, at various points, a "Timberland face massage," throwing people headfirst into fire hydrants, and smashing them with a mannequin head from the menswear section of the Garden State Plaza Neiman Marcus. The duo also dedicated the opening of their latest show to the war of words, with Mero adding threats and Desus wondering if they were about to get canceled.
"In two years, we gonna be in front of the bodega and he's like, 'Yeah, yeah, we lost the show, but I told that nigga,'" Desus said. They also pointed out that the large-headed Hayes doesn't need their protection — "He's a smooth six-four, B. Tucker Carlson just look like a Miracle Whip in a bag," said Mero.
But the real fun was Mero vs. the "MAGATS." He dedicated well over 100 tweets to the Trumpito lovers, cornballs, fuckboys, herbs, cubicle robots, and cock-flute soloists, with a long string battling conservative pundit and former Secret Service agent ("PRESIDENTS MEAT SHIELD") Dan Bongino. The frequent Fox News guest jumped in the fray, writing, "The biggest talkers are always the biggest cowards. Fake tough guy."
It was on from there, with Bongino repeatedly calling Mero a nobody and driving right up to the racism cliff then putting the car in reverse before plummeting over. In one tweet, responding to Mero's boast about being on Showtime, Bongino replied, "No, I won't give you a loan, or a job. Stop with the groveling (I'll give you a minute to look that up)." Soon after, he added, "You're a chump, and you're weak. I can smell it on you. Now back to your basement apartment for another mixtape." Then he pulled out the ultimate Twitter nut flex: "I block imbeciles. And you're next when I'm done toying with you." Scary.
If you don't follow Mero already, it's worth going back through his feed, starting from April 2 on, to see the true artistry of his clapbacks. (And just in case you don't understand some of it, check out Vulture's beginner's guide to the world of Desus & Mero for clarification.) Here are some highlights, many of which could come in handy the next time you're at a gathering with your old racist uncle (all caps Mero's).
• "FUCKIN DUCK DYNASTY ASS CLOWNBURGER"

• "WET DOG SMELLING YAKUBIAN TRASHBAG"

• "LITTLE ANTHROPOMORPHIC BABY PENIS"

• "SOFTER THAN A MORNING DIAPER"

• "DICKWRINKLE"

• "U AND UR OPIOID FIEND FAMILY WOULD MURDER YOUR GRANDMA FOR HALF A PERC. THATS YOUR CULTURE, SHITBAG. THAT AND NOT BEING ABLE TO DANCE AT ALL OR SEASON ANY FOOD ITEM." (Note: Usage of this one and some of the others below might not be good for family gatherings, but also could be true, so use them wisely.)

• "GO FLY A KITE GRANDAD, GO TO A SIP & PAINT. ENJOY YOUR GOLDEN YEARS BEFORE U DIE OF CONGESTIVE HEART FAILURE WHILE MASTURBATING TO CUCKOLD PORN."

• "HUMAN PROSTATE EXAM"

• "ASSCAKE"

• "BABYDICK"

• "CLOWN BISCUIT"

• "NUTSACK SOMMELIER"

• "INVERTED GENITAL"

• "FEEL SO SO SORRY FOR WHOEVER YOU FUCK. SINCERELY."

• "FUCK YOU AND YOUR ENTIRE FAMILY TREE OF ICE ROAD TRUCKERS"

• "CRUSTY OLD THOT"

• "I MAKE ENOUGH MONEY TO BUY YOUR HOUSE JUST TO SMOKE WEED IN. WHATS YA LIFE LIKE?"

• "SUCK A BAG OF DOG DICKS"

• "EXTRA PANINI PRESSED PUSSY"

• "GUN POLISHING SISTER FUCKING NECKBEARDS"

• "DICKBURGER"

• "COSTCO JUG OF KEN'S STEAKHOUSE MAYONNAISE"
There are many more to be treasured on the timeline. More importantly, Mero laid down a challenge both on Twitter and Showtime: a charity boxing match with him taking on Carlson (for the undercard, Desus will take on Ben "I'm not alt-right, just sexist, Islamophobic, homophobic, lightly racist" Shapiro). Though, apparently, Mero was a little more contrite toward the end of last night, tweeting, "I FLEXED TOO MUCH IM EMBARRASSED NOW IM GONNA WALK IT BACK BY SAYING YO I ONLY SMOKED 2 BLUNTS TONIGHT IM RUNNIN LOW."
Please, Showtime. Bring the man some more blunts and get these guys in the ring. The Bodega Hive demands it (for charity, of course). If not, we'll settle for this: