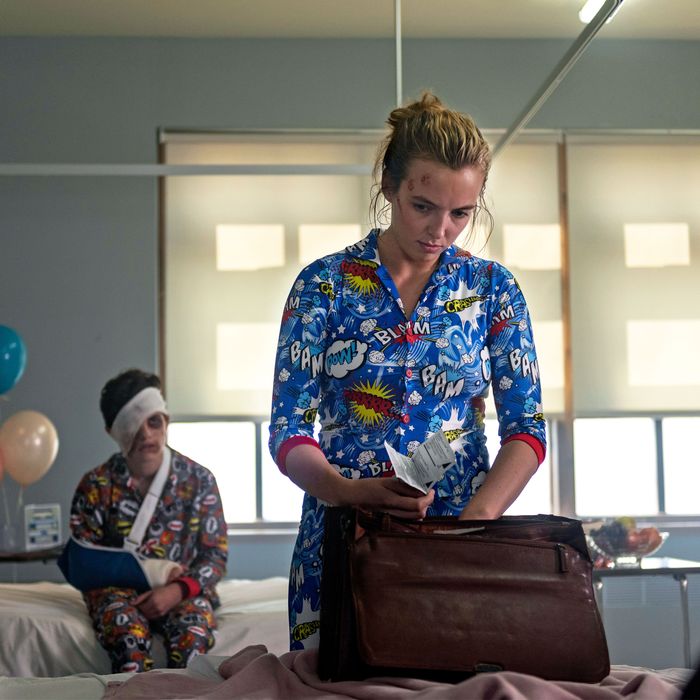 Photo: Parisa Taghizadeh/BBCAmerica
The last time we saw Eve Polastri, the erstwhile MI6 agent was curled on a bed with Villanelle, staring longingly into the eyes of her nemesis-cum-love-interest. "I've never done anything like this before," said Eve, like countless theoretically straight girls before her, as she prepared to cross an intimate boundary. And she did — not through the explicitly sexual denouement many fans had been waiting for, but by driving a knife deep into Villanelle's gut.
Thirty seconds later, as the second-season premiere opens, Eve's world is upside down and in pieces. Villanelle is gone, limping into the streets of Paris like a wounded animal. Eve flees the building, terrified: of Villanelle, of the murderous cleaning crew at her heels, but most of all of herself. She has crossed a line that cannot be uncrossed, one that has brought her closer to Villanelle not only literally but in her very identity — or to realizing that she had been closer than she thought all along. What did Eve say again, shortly before slipping in the knife? "I think about you all the time … your eyes and your mouth and what you feel like when you kill someone." How did Eve feel when she slipped the blade inside her? Was it the same?
"I think I might have killed her," Eve whispers into her phone after a call with her MI6 boss Carolyn Martens, once she is sure the line is dead and her secret is safe. She looks up to see a man on one knee proposing to his girlfriend like heterosexuality incarnate, both of them aghast at her confession. She isn't like the normal people anymore, and they know it; the bloody knife is still burning a hole in her pocket. It has been inside Villanelle, it is still coated in her, and it has made Eve something indecent, something deviant, something abnormal.
Eve spends much of the episode trying to run back into the soporific embrace of normality with all the forced enthusiasm her considerable denial will allow. She takes a train back home as fast as she can and throws herself into a whirlwind of domesticity, chopping carrots and drinking wine. When a telemarketer calls, she curls up in bed and swaddles herself in the tedium of his sales pitch. "Tell me everything," she says breathlessly, like a child asking for a bedtime story. "Good news," she tells her husband when he gets home for dinner, a slightly hysterical note of panic rising in her voice. "I was fired, so we can go back to just being normal!"
Normal was safe at least, and she had tried to be happy with it for a long time: happy with her respectable but boring job as a dedicated public servant, happy with her kind but boring husband Niko, whom I often imagine as an ambulatory Mr. Potato Head mustache floating around their apartment. Sometimes it had seemed like enough, until it wasn't. It's one things to convince yourself that you're satisfied when you don't know a part of yourself is missing. It's a great deal harder to talk yourself back into living in black-and-white once you've discovered color.
Niko knows, feels the ground shifting beneath him, the way people often do when relationships start to break down and no one wants to say it. When she insists through tears that everything is okay, really it's okay, it is the lie to end all lies, and to his credit, he knows it. "I realized there's no way out of this," he says in the final moments of the episode. "You need this." He's talking about the job, which is not the whole story, but it's as good an analogy as any.
And so Eve sits in the tub, staring at the blood still caked on her cuticles and the wedding ring on her finger as if at an impossible sum that will never add up, aching not just with guilt but with the secret thrill of an affair, the smell of your lover still clinging to your fingers long after you return to your humdrum life.
"Any idea where she's gone? Any feelings?" Carolyn asks Eve after a debrief of recent events that notably omits any erotic stabbings. "No," says Eve emphatically, protesting more than a little too much. "No feelings," she insists again. There is a river in Egypt that runs 4,130 miles between the Mediterranean Sea and Lake Victoria, and its name is Eve Polastri.
When Eve balks at returning to MI6 because she wants "to go home," Carolyn all but rolls her eyes. "Is that really what you want? … There's no need to play the reluctant ingenue with me. Save that for your husband." The very gay call is coming from inside the house, whether Eve wants to admit it or not, one way or another, Villanelle is coming for her too.
For the moment, Villanelle is recuperating in a French hospital, where she tells the young man in the next bed that she is indeed planning to visit her "girlfriend" in England as soon as she's back on her feet. But she's not out for revenge, and doesn't feel scorned — quite the opposite. "She did it to show me how much she cared about me," she tells the boy. Rather than a rejection of intimacy, Villanelle sees the stabbing as a profoundly intimate act, a bloody valentine of sorts that pinned her and Eve together like an arrow through a heart. They have never been so alike.
When the boy asks if she's afraid her girlfriend will stab her again, Villanelle shakes her head. "She won't. I know her better than anyone. Better than she knows herself."