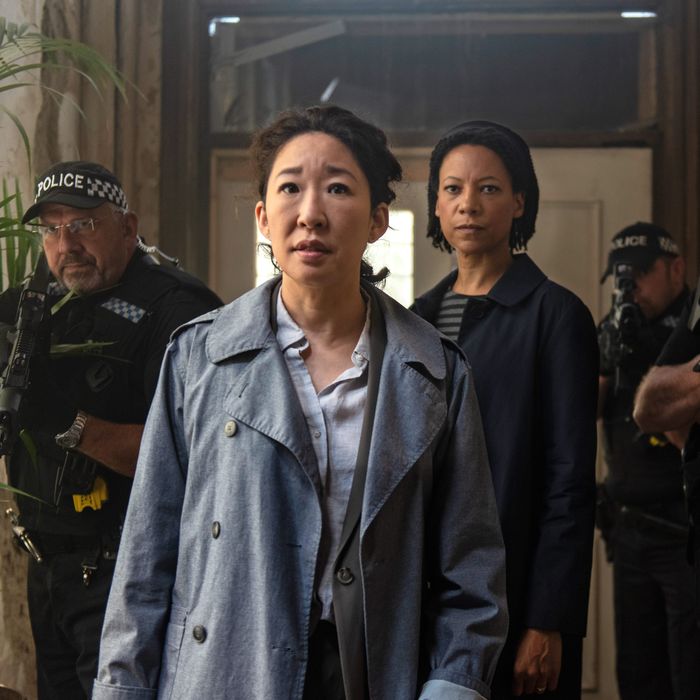 Photo: Parisa Taghizadeh/BBCAmerica
Despite taking a seemingly fatal bullet to the chest last season, Villanelle's former handler Konstantin is back. After nearly getting murdered by his young charge, he has a bit of advice for Eve about the relative merits of getting close to a narcissistic serial killer.
"She's a parasite, Eve," he warns, which I choose to believe is a reference to the classic 1998 video game Parasite Eve, about a female police officer hunting a female mass murderer. "She gets into your brain. She eats you up to make space for herself." He references the classic children's story The Very Hungry Caterpillar, about a newly hatched larva that burrows its ways through the pages of the book, driven by a singular imperative: to consume. But no matter what it eats — including an apple — the story loops back to the same refrain: "He was still hungry."
Using an apple as a metaphor for desire and forbidden fruit is a very old and somewhat cliché trope, but it fits in Villanelle's case. She's always preferred to be a hammer rather than a scalpel, in both professional and symbolic terms. Her relationship to Eve has always orbited ideas of temptation, transgression, obsession, sex, even love. Love is often romanticized, in media and culture, specifically for its most pathological qualities; its ability to supersede all other concerns, to defy logic and reason, to ignore whatever damage, both personal or collateral, it may cause. It's telling that Romeo and Juliet has become virtually synonymous with the concept of romance, despite the fact that it's about two teenagers who have known each other four days executing a suicide pact. Love über alles, love at all costs, love as measured by how much of ourselves we are willing to destroy in order to possess it. There's another less romantic framework for the self-centered, obsessive way Eve behaves toward Villanelle: addiction.
Villanelle is always the princess in another castle, looming just out of reach like an apple dangling from a branch that Eve's fingertips can brush but never grasp. She justifies her behavior, feelings always that she is so close, though this is yet another lie; the end point of obsession and addiction are not satisfaction, because there is no end point, no destination you can arrive at that will truly free you from it. It is by definition a state of perpetual need, where every moment of satisfaction is just another bread crumb that leads you deeper into the darkness while erasing the path behind you.
While there has been no organized intervention (yet), plenty of other people have tried to pull Eve out of her self-destructive spiral, or at the very least acquaint her with the consequences of her actions. Niko shared his terror and hurt at Eve's indifference toward both her personal safety and their relationship; Carolyn has read her the riot act multiple times over her dangerously unprofessional behavior. Even Kenny is finally fed up with her shit, with her inability to even come up with plausible excuses anymore.
"I'm not doing this for myself, Kenny," she rationalizes. "I'm doing this because …" And then she trails off, because she has no answer, or at least none she is willing to admit. The mind is endlessly innovative in justifying its bullshit through whatever contortions and lies are necessary. Eve has long cast herself as any number of tropes: the exceptional hero solely capable of stopping the villain, the loose cannon who ignores the bureaucratic rules for the greater good, the martyr willing to sacrifice anything — her reputation, her relationships, her moral compass — to see justice served. They're nice stories, and also lies that allow her to maintain a patina of integrity while being incredibly selfish and doing whatever the hell she wants. The truth, which Niko sussed out nearly a season ago, is something far simpler: "You're not saving the world, honeybunch. You're getting off on sniffing out a psycho."
But none of what they say matters, because none of them matter anymore — not really. Addiction reduces the world to one bright, hot pinprick of desire at the center of a world that has otherwise grown dim, the voices and needs of everyone else receding into background noise. Eve is still relatively high functioning, still going through the motions of her job and her relationship, even if her shitty, self-absorbed behavior has corroded both to a breaking point. As Konstantin says, "You still have something worth having" — but now it's barely hanging by a thread.
Elsewhere Villanelle is coping with narcissistic hungers of her own as the attention of her superiors and MI6 increasingly turn toward the new female assassin on the scene known only as "the Ghost." We're told that she's Villanelle's "opposite," a professional killer known not for flashy death but rather her ability to sublimate ego entirely and assassinate her target as quietly, as invisibly, as possible. This has made her, arguably, a more competent killer, particularly as Villanelle's petulant theatrics have grown more expensive and less cute. Worse still, Villanelle's bosses want her to tone down her murders so that they can be blamed on the Ghost, robbing her of the credit and the spotlight she craves.
In Villanelle's perfect world, every building would explode the moment she walked away from it, every step she took would flower like a bleeding wound behind her, and every person she met would die with her name on their lips. Although tremendously skilled as killer, her career is not a professional endeavor so much as a monument to ego, a love letter to herself above all others.
This is love as Villanelle understands it, as she is teaching Eve to understand it. "She thinks she loves you," Konstantin tells Eve. "Then make her hate you … Look what happens to the people she loves. She'll love you to death." Konstantin is the signpost at the gate of Dante's Inferno, warning her to turn back: Abandon all hope, ye who enter here.
Eve is not dissuaded; she remains hell-bent on finding Villanelle, and unconcerned with who or what she has to bulldoze to get there. She convinces Kenny to go behind Carolyn's back to get the intel on where Konstantin's family is in witness protection, uses it as leverage to find Villanelle's location, and arrives to find Villanelle recently absconded through a window. Naturally, her first reaction is to scramble desperately for the mini-bar and down a bottle of vodka, because that's definitely not how people with a problem behave.
Later, at home, Eve takes the lipstick out of her purse and slowly applies it. She is both the apple and the mouth. Suddenly she jerks back, blood streaming from a wound on her lips, split open by a tiny pen knife buried inside the tube. This is love as Villanelle understands it, as she is teaching Eve to understand it. Eve rubs the wound with her finger, like she's tracing a heart carved into her skin. Eve is both the apple and the mouth that wants to wrap around it, both the banquet laid out on the table and the guests salivating at the spread. She wants to consume — what Villanelle is, what Villanelle offers — as much as she wants to be consumed.
Addiction ends, if it ever does, in one sort of annihilation or another — in death or in transformation so fundamental as to rewrite the self. The very, very hungry caterpillar became a butterfly in the end, after all. And Eve is so very, very hungry.