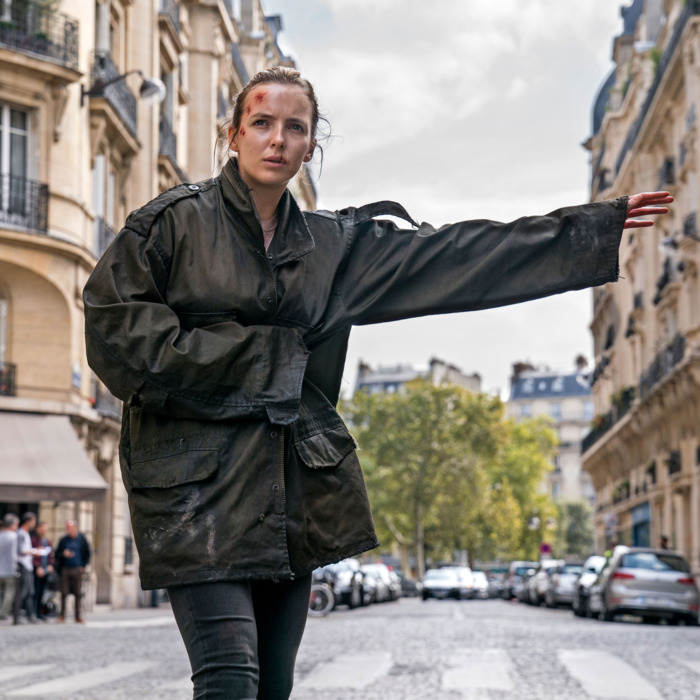 Villanelle (Jodie Comer), very much still standing in Killing Eve season two.
"Women don't stab," says Gabriel, a young man who's unfortunately hospitalized in the first episode of Killing Eve's highly anticipated second season. As viewers of Killing Eve already know, Gabriel is dead wrong.
In this BBC America series, which also will be broadcast on AMC starting Sunday night, women stab and punch and poison and lie and become completely obsessed with serial murder. Just as they did in season one, these women — Eve, the fastidious MI5 spy played by Sandra Oh, and Villanelle, the cunning assassin portrayed by Jodie Comer — do it with dark humor, style, and a commitment that requires the use of the adjective fierce. Killing Eve, developed by Phoebe Waller-Bridge from the Codename Villanelle book series written by Luke Jennings, debuted last year with such sick slickness that it instantly cemented its status as one of the best series of the year. If the second season unfolds with as much suspense, craftiness, and laugh-out-loud humor as the initial two episodes suggest it will, Killing Eve should once again wind up on plenty of critics' year-end lists.
Waller-Bridge remains onboard as an executive producer, but due to her full plate of projects — including a forthcoming second season of Fleabag — she handed head writing duties this season to Emerald Fennell, a writer and actress best known to American audiences as Patsy Mount from Call the Midwife. Thankfully, the transition is ultrasmooth: Season two begins literally 30 seconds after season one ended, and it's truly like only that much time has passed. Ferrell dives right in, taking us along as Eve attempts to figure out her next move after stabbing Villanelle in the previous finale, and Villanelle seeks medical attention while sending signals that she's fixated on finding Eve again. As directed by Killing Eve vet Damon Thomas, the first two installments instantly demonstrate a command of the show's suspenseful, cheeky, and deeply feminine tone.
That tone, which ping-pongs confidently and slightly subversively between sensibilities, is like nothing else on TV right now. Consider the moment when Villanelle, severely injured from the shanking she got from Eve, asks a doctor if she's allowed to have one of the lollipops or stickers she sees sitting on a nearby counter. No, the doctor tells her, those are for the younger patients. Then Villanelle, a woman we know to be a ruthless, unethical murderer, smiles and says girlishly, "Stickers." A couple of minutes later, she's sucking on a lolly and wearing a sticker that says "Superbe."
In an earlier scene from the same episode, a rattled Eve makes a stop at an airport candy shop and fills her tiny bag to the absolute brim. When one blue sweet falls out, a young boy reaches out to grab it. In a move that echoes Villanelle's flipping of a little girl's dish of ice cream in the first season premiere, Eve smacks the kid's hand and snatches the sugary blob for herself. Killing Eve is delicious and it's just for the grown-ups.
The principal action is the recognizable stuff of most TV thrillers. Carolyn (the brilliant Fiona Shaw), head of the Russia division of MI6, reenlists Eve to help figure out who killed an internet billionaire, and whether Villanelle or perhaps her replacement is responsible. Villanelle keeps getting herself trapped into places and situations from which she has to engineer an escape. And of course, Eve, Villanelle, and those of us at home are always shivering in anticipation of the two principals finally coming into contact with each other again. But what happens inside the parentheses of all that is what distinguishes Killing Eve and makes it such a wicked pleasure.
As was the case last season, the series takes a male-dominated genre — the spy thriller — and gives it a feminine vocabulary that's sly and refreshing. When Villanelle slips out of a hospital room and finds a doctor's uniform she can slip into as a disguise, she takes a moment to register utter disgust at the fact that she's going to have to wear — ew — a pair of bedazzled Crocs. In another brisk, efficient aside, Eve asks Carolyn a personal question: How does she maintain her flawless appearance, even under duress? "Its my moisturizer," she responds. "It's made of pig placenta. It costs a fortune and it smells like arse." "I don't mind smelling like arse," Eve responds. "I'll send you the link!" Carolyn responds cheerily.
But Killing Eve plays with crime series stereotypes in ways that don't always involve fashion or beauty. While examining a cadaver at the medical examiner's office, Eve says she needs to sit down. Because cliché television and film has trained us to, we expect Eve to say she feels woozy. Instead she asks for a burger; apparently the smell of formaldehyde makes her crave meat. When Villanelle uses a code phrase during a phone call, it's a movie reference but not to The Godfather or a James Bond movie or any of the films that tend to get shout-outs when men are writing the scripts for shows like these. No, the line she quotes is from the movie Clueless.
Oh, who deservedly won a Golden Globe for her performance in season one, is still perfectly wound-up in knots as the addled, meticulous Eve, while Shaw's performance as Carolyn remains as authoritative and dry as a crisp Sauvignon blanc. But Comer deserves special notice because, at any given moment, she is actively juggling nine different emotional vibes when she's playing Villanelle. She can shift from helpless to droll to frustrated to brutal in the course of a single scene. This is an above-and-underwater performance in that Comer is always showing us what Villanelle is doing above the surface, as well as what's going on in the depths below.
Even when Villanelle is at her most still, her physical being radiates with energy that implies this woman will never, ever rest. Just before she tells another character that he's "going to bleed to death," she subtly raises a single eyebrow, just a little, and it tells you instantly, before she even gets to the bit about the blood, that the guy is about to get his. When Comer purposely flexes even the tiniest muscle during Killing Eve, you sit up straighter in your seat. That's because whenever she makes even a minor move, you know there's a strong chance that this formidable woman is about to stab.
A previous version of this review mistakenly said that Sandra Oh won an Emmy for her Killing Eve performance. In fact, she won a Golden Globe.