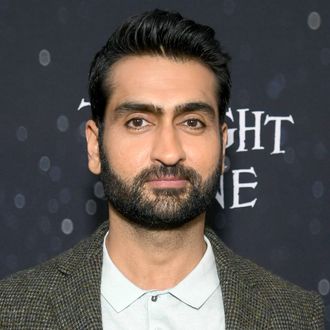 Photo: Emma McIntyre/Getty Images
Making a career as an actor or actress is such a life-long slog through rejection and dissapointment, it would be nice to be cast as an almost perfect being once in a while. According to The Hollywood Reporter, Kumail Nanjiani is currently in talks to join director Chloe Zhao's upcoming Marvel movie based on The Eternals. Created by Jack Kirby in 1976, The Eternals are genetically-engineered (by ancient aliens known as The Celestials, of course) super-humans, who come complete with powers and near immortality. They also come with a built-in group of nemeses, the ugly, oft-mutated Deviants. Oh, and all this is going on alongside traditional humanity, so you can only imagine what they have to say about the whole thing.
While there's no information as of yet about the Twilight Zone actor's specific role, he will at least purportedly be joining Angelina Jolie. The actress is reportedly playing Sersi, "a more outgoing Eternal who has not been afraid to move amongst humankind," which, based on the description of those two groups above, you probably could have guessed.