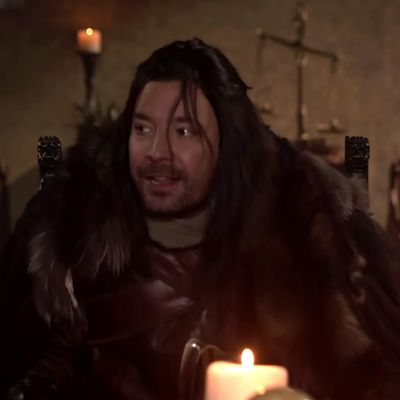 Jimmy Fallon on
The Tonight Show
.
Photo: NBC
Did you know Game of Thrones is coming back? Nobody is talking about it, so you might have missed it. Just kidding: It's literally the only thing people are discussing. Poor Avengers, they can barely get a word in edgewise. The cast of Game of Thrones has been making rounds on the talk-show circuit, and even on days when nary a Lannister is on the couch, the hosts are discussing the long-awaited final season. We rounded up the best Thrones bits of late night because it's all we really care about. People keep saying the Trump administration is "like Game of Thrones." But you know what's even more like Game of Thrones? Fucking Game of Thrones.
8. The Late Show: Anderson Cooper's Travelogue
Anderson Cooper came on The Late Show to plug his 60 Minutes story that will air after GOT Sunday night. Cooper got fully made up as a White Walker, went to the prop archive with Jon Snow, and generally geeked out. The problem is, Cooper is so fanboyish about Thrones that his enthusiasm gets in the way of his presenting. His breathless explanation of his trip was more awkward than cute. But fans of cruelty, don't worry. Anderson wants to monetize Cohen's baby, the true Lannister-style darkness in the interview.
7. The Tonight Show: A Cameo-Heavy Cold Open
Fallon called a council of cosplay to argue about when Game of Thrones was returning. Fallon dressed like a Stark but acted like a Joffrey. Giving yourself the most protagonist-y male character to play is a boring move. And the irony is staggering when Fallon says all good shows end on literally one of the longest-running shows on TV. But this sketch boasted cameos from Sean Bean and George R.R. Martin. Wild to get not one, but two people killed off by HBO.
6. Late Night: Kit Harington Returns to 30 Rock
You'd think Jon Snow would be a get, and under normal circumstances, he would be. An immortal hunk who unknowingly boffed his aunt, you'd think he'd have a lot to talk about. The problem for Seth Meyers was that Kit Harington had spent the past week at 30 Rock rehearsing for then performing at SNL. Luckily, former SNL head writer Meyers can always find new anecdotes to milk out of someone affiliated with the show. Thanks to this interview, we now know Lorne Michaels has switched from popcorn to edamame! But Harington didn't just do SNL recently. He did The Tonight Show last week, and The Late Show last month. When it comes to conserving your brand's power, you know nothing Jon Snow.
5. Jimmy Kimmel Live!: The Audience Gets Punk'd by Jaime Lannister
It must be hard for people involved in world-consuming franchises. How do you talk to people who are obsessed with you, and how do you cope with not being able to share in that obsession? If you're lucky, you're an ascended fanboy like Simon Pegg in Star Trek. But Nikolaj Coster-Waldau has found another way to cope: pranking people into caring about your bullshit. Coster-Waldau got a GOT-obsessed American audience to cheer for his favorite soccer coach. If there's one thing Americans hate more than GOT spoilers, it's soccer.
4. Conan: What GOT Meant to John Bradley
Before embodying Samwell Tarly, John Bradley suffered from poor self-esteem and body issues. On Conan, he talked about how he used to go to sleep praying he would wake up thinner. "While I was feeling bad about myself, David and Dan, our producers, and everybody else connected to the show, they were looking for me. They were looking for exactly me," he said. "And it's not just a case of they're going to accept all of what I consider to be faults about myself. But they're going to see them as virtues, and they're going to be my key into this amazing experience and meeting all these amazing people." And although Thrones still hasn't supplied Bradley with his dream of meeting Ginger Spice, it definitely changes his life for the better.
3. Busy Tonight: Nikolaj Coster-Waldau Metes Out Justice
There was a plethora of Nikolaj Coster-Waldau content on late night this week. Talk about diminishing your brand; dude did three shows in one week! We're not even going to talk about his appearance on The Late Late Show because Corden had a better GOT desk bit on the same night. But his appearance on Busy Tonight was fun because it ran with both the cruelty and incest of the Lannisters by letting Jaime rule over a sibling Knight Court. Who doesn't want to see a Gen-Z kid get burned at the stake, then told he's lame enough to go to Coachella Week 2?
2. The Late Late Show: Writer Torture, in Service of Art
James Corden loves to do a little rap. His sonnet-esque "let me break it down for you" segments run at least once a month, showing off Corden's recitatif skills. Apparently they were all written by one man, Lawrence Dai, who had never seen Game of Thrones. So when The Late Late Show wanted to do a GOT recap rap, Dai had to mainline 67 hours of prestige boob murder. Dai was given one of those hangover IVs to give him the electrolytes he needed to get the job done, and even constructed an iron throne out of all his discarded junk-food containers. The binge-watch saga not only aired on TV, but was spread across social media over the weekend. That kind of content is going to become more and more crucial in late-night. Nothing says death of old media like livetweeting a streaming TV marathon.
1. Conan: Patton Oswalt's Optimism
We're double-dipping into Conan because he brought the truth: Winter is here. Everyone's favorite show is ending (as is everyone's former favorite movie franchise that outwore its welcome). But Patton Oswalt reminded us all that there will be another show that transfixes the world, and it might be even dumber than the one about ice dragons and tits and Lena Headey's wigs. In some coffee shop or at some kitchen table, someone is dreaming up the next thing that will make us all lose our goddamned minds, and that's beautiful.