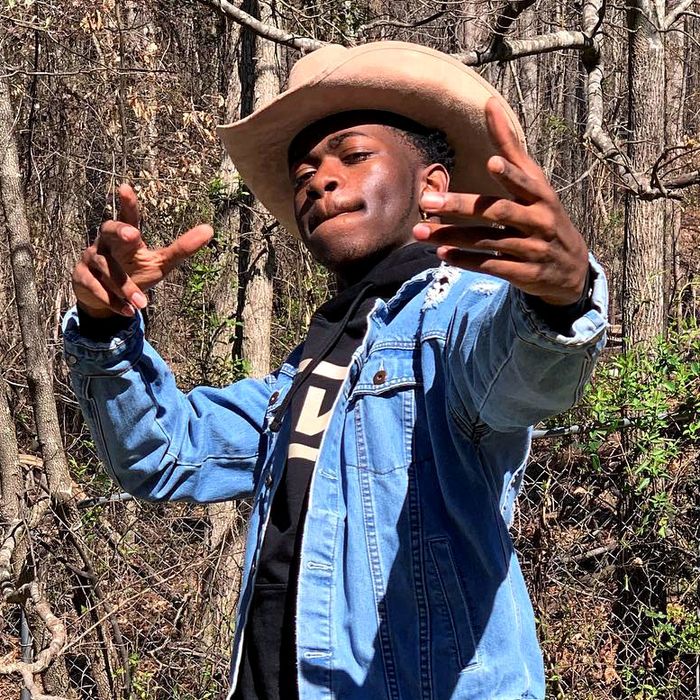 If Lil Nas X's plan all along was to game the system, he's already won.
Photo: Lil Nas X/Instagram
Lil Nas X has perfect timing. The 19-year-old rapper whose biggest hit refuses to be restricted to rap just keeps catching waves at the right moment, sometimes on purpose, like his use of Twitter and TikTok and the moment yee-haw is having in hip-hop and beyond, and sometimes by accident, like the Billboard chart controversy that has coincided with him signing a record deal with Columbia.
Thanks to an online savviness that social media marketing professionals would charge top dollar for and a few lucky breaks, the Atlanta rapper's "Old Town Road" now sits atop Billboard's on-demand streaming chart, garnering 20.2 million listens just last week, and has broke into the top 15 on its general Hot 100 singles chart. That's on top of the millions of streams, views, and memes that led him to his major-label contract, which some estimate is in the seven figures. Not bad for the teenager born Montero Lamar Hill, who added the X to his stage name because it stands for ten years — the time he thinks it should take to reach a "legendary level," as he told Rolling Stone.
Of course, detractors can call Lil Nas X an industry plant, a.k.a. an artist whose persona and organic following is actually a calculated marketing strategy by music-business string pullers. It's the same criticism levied against Lana Del Rey when she broke big after years of obscurity as Lizzy Grant, though Lil Nas X made the leap much more easily. He's already embracing that dismissal: "hell yeah im a industry plant and what y'all gone do about it," he tweeted this week.
It's easy to see why people would make the accusation — after all, his first claim to internet fame was tweeting as @NasMarai, amassing thousands of followers thanks to his hilarious takes on everyday life and pop culture, similar to the early days of Desus and Mero. Given how social media talent agents work these days, it's only fair to be skeptical of anyone whose success happens so quickly.
Lil Nas X, however, says it's all due to a combination of hard work and knowing how to use the tools of the internet to create something that would click with the masses. "Old Town Road," after all, started with a track he found on BeatStars, a site launched in 2008 for aspiring musicians to upload their instrumentals, that was created by YoungKio, a fellow teen from the Netherlands. Lil Nas X bought the track for $30 and wrote lyrics inspired by his anxieties over his parents' disapproval of him dropping out of college. Then, he tailored it for the masses. "I run a meme type of account on Twitter; I know what my audience is looking for. So I put some potentially funny lines in there," he told Rolling Stone.
Adding to the meme-ready stew, he released the song in December 2018 on YouTube with visuals set to the video game Red Dead Redemption 2 and uploaded it with the algorithm-gaming "country" genre tag on SoundCloud and iTunes, right when the yee-haw trend was at a rolling boil. (Though Lil Nas X says even he couldn't have predicted that perfect storm, and the song wasn't intentionally inspired by the trend.) It then took off on TikTok, with users making their own cowboy-themed videos to it, just as he knew it would. "I was pretty familiar with TikTok: I always thought its videos would be ironically hilarious," he recently told Time. "When I became a trending topic on there, it was a crazy moment for me. A lot of people will try to downplay it, but I saw it as something bigger."
Then, of course, came the Billboard snafu. After debuting at No. 19 on the Hot Country chart, thanks in part to airplay from country radio DJs who ripped the song off YouTube because it wasn't properly delivered to their stations, Billboard removed it from that genre's ranking while leaving it on the Hot R&B/Hip-Hop list. The explanation: "Old Town Road," with its Nine Inch Nails banjo sample and cowboy theme, "does not embrace enough elements of today's country music to chart in its current version."
While a slight like that could be ruinous to some artists, it amounted to a blitzkrieg of free press, most of the digital ink getting spilled over whether or not Billboard's actions were racially motivated. "What's the difference between Kacey Musgraves, Maren Morris and Lil Nas X? Lil Nas X doesn't play guitar," said Shane Morris, formerly of Sony, in a tweet thread. "Just kidding. Well, I mean, he still doesn't play guitar, but the real problem here is that Lil Nas X is a black man, from Black Hollywood, AKA Atlanta."
Lil Nas X took it all in stride, chalking it up to people not getting his unique style. "The song is country trap. It's not one, it's not the other," he told Time. "It's both. It should be on both [charts]."
And why not? Arguments about genre confines are nothing new — Musgraves and Morris are just two of the many examples of people whose background in the country scene keeps them in that lane, even when their hits are bereft of steel guitars and banjos, while Beyoncé's "Daddy Lessons" couldn't get Grammy consideration in that category. It also got relegated to the R&B chart when the only thing R&B about it is that it's sung by a black woman who came out of that genre.
So, while Lil Nas X isn't the first artist to cause a stir over how purists and genre gatekeepers decide who belongs and who doesn't, the fact that his viral debut made Billboard's decision look silly at best and racist at worst shows just how pointless it is to cling to the idea that all music must be labeled as one thing or another. Who cares if he didn't cut his teeth gigging in Nashville or grow up on a farm? Not listeners, obviously. (Or Billy Ray Cyrus, even; he's now endorsed the song with his own remix.) They're doing what the stodgy critics and industry people should, too — relax and enjoy the song. Or don't, if it's not your thing.
Regardless of where its success is measured, in whatever genre tag, there's no doubting that if Lil Nas X's plan all along was to game the system, he's already won. His path to the top can't be exactly replicated — nobody can just decide to be funny enough to build a solid online following then drop out of college and find a random beat from some kid in Europe and rhyme about your anxieties over it, then release the track just as your target audience is embracing the cowboy life on a social app that's also blowing up. But with the right amount of talent and the foresight to stay ahead of the cultural curve, a viral hit and big payday can be in the offing. Naysay all you want about Lil Nas X — that he's a flash in the pan, a product of our meme-addicted times, a joke who cheated his way into country music — but you can't knock his success. He's put out one single and is already getting the last laugh.