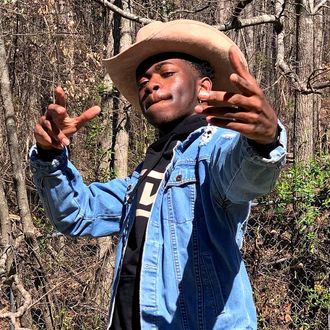 Lil Nas X.
Photo: Lil Nas X/Instagram
Billboard may have pulled Lil Nas X's song "Old Town Road" from its country charts, but everyone in America sent it straight up the Billboard Hot 100, officially making it the number-one song in the country, in addition to topping Billboard's Hot R&B/Hip-Hop Songs and Hot Rap Songs charts. Once again, the combination of country, hip-hop, and Nine Inch Nails' deep cuts proved irresistible to the nation.
Billboard received criticism late last month for removing the song from the country charts for allegedly "not embracing enough elements of today's country music in its current version." "Billboard offers category-specific charts simply as a tool for people in the music business to better gauge the success of songs relative to others in a given format," they said by way of explanation. "We are often times faced with difficult categorization choices." The viral hit, which also samples Nine Inch Nails' "34 Ghost IV" off the band's 2008 album Ghosts I–IV, garnered even more attention last week after receiving a Billy Ray Cyrus remix, reminding us all to never underestimate the coveted Billy Ray bump.