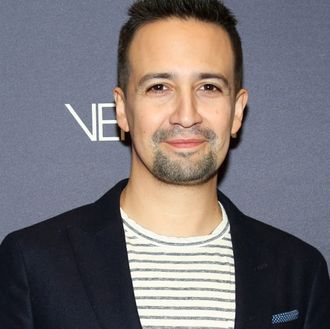 Lin-‍Manuel Miranda.
Photo: Maricela Magana/Michael Priest Photography
Lin-‍Manuel Miranda, the actor, composer, lyricist, playwright, and television producer, is seemingly a one-man show. But, surprisingly, as one of the executive producers on FX's Fosse/Verdon, which revisits Bob Fosse (Sam Rockwell) and Gwen Verdon (Michelle Williams) and their significant contributions to theater, film, and dance, Miranda's favorite moments in the mini-series aren't about the theater at all. At a screening and conversation at the 92nd Street Y on Thursday night, Miranda talked about how he's more interested in the show's quieter scenes and breaking down the auteur theory.
"For me, it's the little moments," Miranda explained. "One of my favorite moments in the series was in episode two, just before Gwen walks into meet Bob for the first time. She's over it, and she's over it, and then [takes a deep breath and releases], and she walks into the room. That's all of us on our auditions. There are moments that are really ephemeral that come with the craft of this. I think that the focus on craft, the focus on collaboration, and the focus on making something so much greater than ourselves is so much at the heart of what we all do."
Rockwell and Williams were onstage with Miranda along with executive producers Thomas Kail, Steven Levenson, and Joel Fields, and co-executive producer/creative consultant Nicole Fosse, who's also the daughter of Fosse and Verdon. Vanity Fair's Radhika Jones led the conversation and asked the group what they wanted to emphasize in a show about the entertainment industry as professional culture creators themselves.
"I think demolishing the auteur theory when it comes to theater is one of the really incredible things about this [series]," Miranda explained. "Anyone knows who's ever made theater, whether you've made it on Broadway or if you've made it in your school play, that you can't do it alone. You just can't do it alone. If you get the right team together and you all get marching in the same direction, you can create something so much greater than the sum of all your parts. That's why we all keep coming back to it."