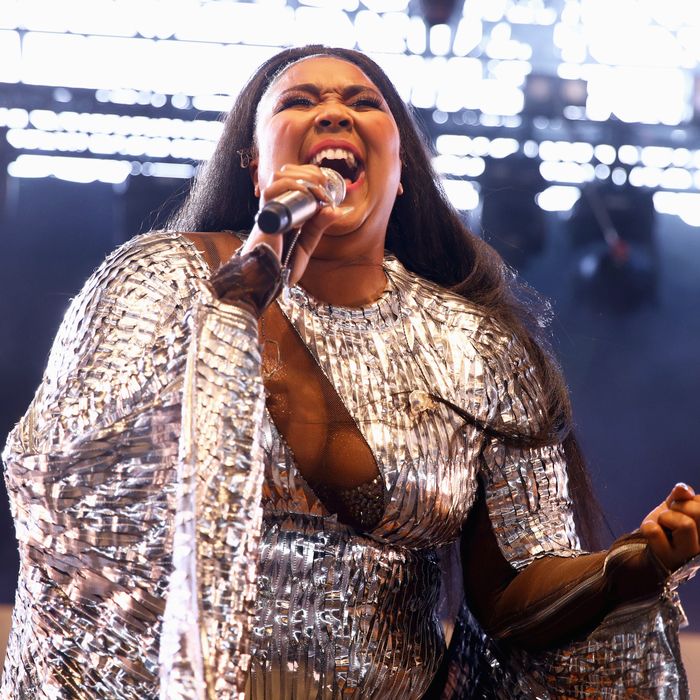 Lizzo's confidence is a ray beam.
Photo: Rich Fury/Getty Images for Coachella
Loving yourself is work. Being your own guide is exhausting. They don't necessarily teach this in school. In Head Start, I had an instructor who led my class in a performance of the Whitney Houston version of "Greatest Love of All" at a recital for parents. We rehearsed so much that the lyrics are still branded in my brain. As a 5-year-old, I thought I was singing a happy song. "The children are our future." That was me! I didn't grasp what I was saying. "Everybody's searching for a hero / People need someone to look up to / I never found anyone who fulfill my needs / A lonely place to be / And so I learned to depend on me." That's dark! I'm only just now starting to get what it means, some 30 years later. You have to be your own quarterback and your own cheerleader sometimes. Doubting yourself is easy when there are people betting against you, when political rhetoric makes you feel lesser, and the future seems foggy and uncertain. Believing that you're better than the worst that you hear about yourself is a job all to itself.
Lizzo makes all of this sound fun. She's an excellent singer, rapper, dancer, flautist, and humorist crafting upbeat, honest songs about appreciating what you're worth. The midwestern polymath's third album, this week's vibrant Cuz I Love You, is a half-hour pep talk crystallizing the themes of self-sufficiency that she's been playing at since early records like "Pants vs. Dress" and "Scuse Me" into an encouraging message of peace and self-love. Cuz I Love You marries the slick rhyme schemes of 2013's Lizzobangers with the funk and soul underpinnings that made 2016's Coconut Oil EP seem perfect for radio and commercials. Lizzo's confidence is a ray beam. She wrote the new album's best love song about herself. "Soulmate" advises against waiting for others to shower us with the attention and appreciation we all crave: "True love ain't something you can buy yourself / True love finally happens when you by yourself / So if you by yourself, then go and buy yourself / Another round from the bottle on the higher shelf."
Cuz I Love You's mission of "switching up the messaging" is clear out of the gate on the title track, a blend of big-band burlesque, classic soul shouting, and stand-up comedy. It's a wild way to use X Ambassadors, who back Lizzo on three tracks here. Most people tap the Ithaca band for gooey pop-rock — "Sucker for Pain," "Unsteady," and "Jungle" are prime examples of this decade's penchant for rock songs that don't exactly rock — but Lizzo flips the script by having them play muscular hip-hop/soul instead. Cuz I Love You is both retro and modern in the same way that Bruno Mars and Janelle Monáe tracks revisit the music of the past through contemporary sensibilities. "Like a Girl" mixes trap with gospel as Lizzo flips the old "you throw like a girl" snap inside out by celebrating the accomplishments of the gifted women in music who inspired her. On "Cry Baby," she's an annoyed lover and a fierce rock-band leader. On "Tempo," she's a formidable partner-in-rhyme for the legendary Missy Elliott. The range is impressive.
Lizzo resists labels, both creatively and quite literally in the second verse of the food/sex rap workout "Better in Color." You don't have to try to figure out how to file her music, her gender, or her sexuality. You just have to watch her work. Cuz I Love You is a playground for a phenomenal talent reaching the peak of its powers. Lizzo whoops and chortles through these beats with unnatural ease. Keeping up is like beating back the wind, like Jon Snow getting whipped through stony Winterfell peaks trying to ride a dragon. Gucci Mane can barely keep up on "Exactly How I Feel." Lizzo is a joy, and Cuz I Love You is an impressive portfolio, showcasing the chops of a singer who nails all the notes, a rapper with alchemical control over words, and a songwriter holding nothing back. She can make lounging around in underwear sound revelatory. She can make masturbation seem like a political act. If you're having a rough week watching the rule of law crumble, let Cuz I Love You rebuild your mettle.