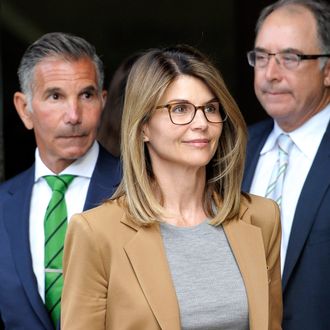 Photo: Joseph Prezioso/AFP/Getty Images
Following her temporary decision to not enter a plea regarding her alleged involvement in the college-admissions scandal, Lori Loughlin and her husband, fashion designer Mossimo Giannulli, have officially plead not guilty. Per ABC News, the duo submitted the document at a Boston federal court on Monday morning, and are "attempting to waive their right to appear in court to enter their pleas to a new charge of conspiracy to commit money laundering." Loughlin, as well as the dozens of other parents indicted in the scandal, were initially charged with conspiracy to commit mail fraud and honest services fraud when "Operation Varsity Blues" became public. However, the defendants who hadn't yet entered a guilty plea, such as Loughlin and Giannulli, were also hit with another charge of conspiracy to commit money laundering.
The fellow high-profile actress indicted in the scandal, Felicity Huffman, as well as 13 other people, chose to plead guilty for her involvement last week. "I am in full acceptance of my guilt, and with deep regret and shame over what I have done, I accept full responsibility for my actions and will accept the consequences that stem from those actions," Huffman said in a statement. "I am ashamed of the pain I have caused my daughter, my family, my friends, my colleagues and the educational community. I want to apologize to them and, especially, I want to apologize to the students who work hard every day to get into college, and to their parents who make tremendous sacrifices to support their children and do so honestly."
As for Loughlin, she's been keeping a cheerful public persona over the past few weeks, and even signed autographs for fans when she appeared in court. Which is awfully nice, since she's been fired from her two biggest acting gigs.