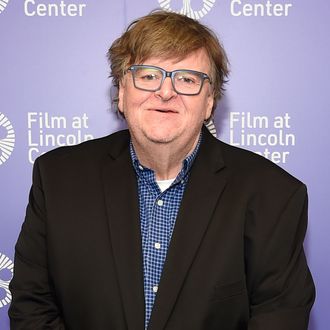 Michael Moore.
Photo: Jamie McCarthy/Getty Images
Michael Moore is known for being a smart, serious guy, but even the best of us need a guilty pleasure to watch when the crushing corruption of our political system feels especially dire. At Monday night's 50th anniversary gala for Film at Lincoln Center — the Film Society of Lincoln Center's new name — Vulture asked what Moore's guilty pleasure is. "If I say it, then it's not really a guilty pleasure, is it? You hide those things, right?" Moore replied. After some hemming and hawing, he divulged that he's a noted member of Bachelor Nation, "for many seasons now."
Moore's favorite Bachelorette was Kaitlyn Bristowe, the Canadian from season 19. When he watches, is he sipping the Bachelorette-branded wine? "No. I pull the curtains and make sure nobody knows I'm watching The Bachelorette. With all those reality shows, once they pass a certain point, everybody's watched the show, so then they're just playing roles. In the early years of it, you really get to see much more," he said. "That's why they need to stop Jersey Shore and The Real World, all that — they're just acting. In those first couple years, they're not acting, and that's when it's the best. That's why The Apprentice was so good in the early years, why so many people watched it." Michael Moore — director, firebrand, and reality-TV purist.