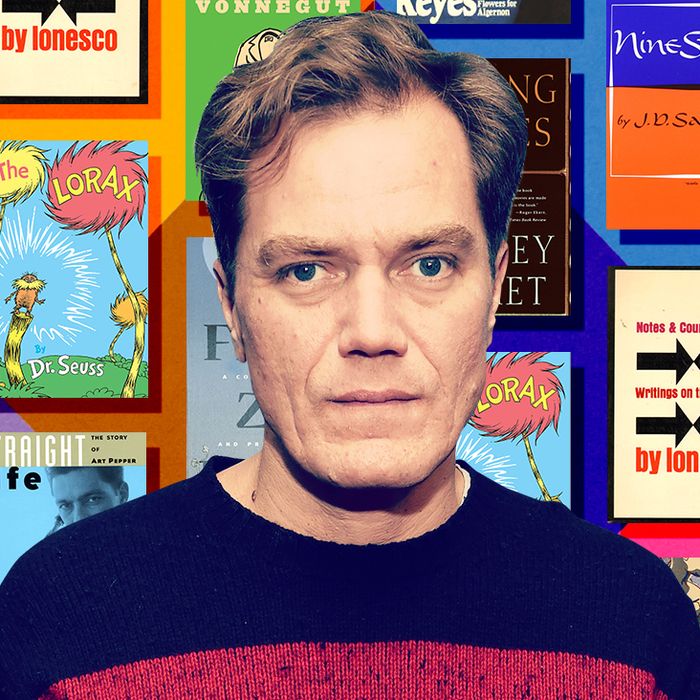 Photo: Vulture and Getty Images
Bookseller One Grand Books has asked celebrities to name the ten titles they'd take to a desert island, and they've shared the results with Vulture. Below is actor Michael Shannon's list. Shannon is currently starring in Terrence McNally's Frankie and Johnny in the Clair de Lune on Broadway.
Kind of holy to me. Particularly "A Perfect Day for Bananafish" and "Teddy." Every time I go to the ocean, I think of these two stories.
This book kind of sums up the whole deal really. Particularly nowadays. Someone should read it aloud over and over again while blaring it through huge megaspeakers throughout the Washington, D.C., area. Reading this book to my daughters is about the happiest I get in life.
This one just floored me. So vivid. So alive. So blunt. I thought I had a raw deal as a kid, and then I read this and realized it could have been a lot worse.
I was obsessed with this book when I was a teenager. His imagination is limitless. His humor is monumental. His compassion is staggering.
Jazz is what has kept me from completely losing my marbles. A friend recommended I check this out, and that's how I knew he was my friend. A bull's-eye. Art's story told through his own words and the words of those who loved him, or at least were fascinated by his incredible gift and witnessed his every attempt to blow it to smithereens. Gives you the most palpable sense of the agony and the ecstasy, the unreasonableness and eventual reasonableness of his life.
One of the proudest moments of my career was working with Mr. Lumet on his last picture. When I was collecting auction items for a benefit at my theater in Chicago, I went to his office and he signed a copy for me to donate, then gave me my own. Getting to read about his life and career in such astonishing detail is almost as much a blessing as working with the man himself.
Of course, Revolutionary Road had quite an impact on me. But these stories are exquisite. Yates's understanding of the human psyche in the day and age in which he lived, the confines and conflicts of expected norms, and the turmoil that they generated, is excruciating yet mesmerizing.
I took this one on a camping trip with a couple buddies of mine. We just sat around reading, hardly said a word to each other. I did not attain enlightenment, but I had some good laughs and realized what a dumbass I am.
The chronicle of a man who had about 30 personalities. He had a personality that spoke fluent Russian! And he had never been to Russia for Chrissake! I'm a sucker for mental illness. I was gonna put the DSM on here, but I ran outta room.
Ionesco is my favorite playwright full stop. His work can be daunting to say the least, so reading this book can be quite helpful when trying to enter his impossible realms