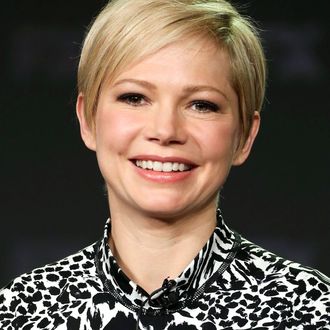 Michelle Williams.
Photo: David Buchan/Variety/REX/Shutterstock
You didn't need to be a fancy mathematician to realize the shocking extent of Michelle Williams's and Mark Wahlberg's pay gap for All the Money in the World, which came to light last year when the two were in the midst of reshoots for the film. Wahlberg was paid $1.5 million to return to set for about a week-and-a-half, while Williams received a paltry $80 per diem in comparison. (Not to mention, Wahlberg was already paid eight times more than Williams to begin with, despite their equal billing.) Wahlberg ultimately donated the entirety of the sum to Time's Up and Williams expressed gratitude at the time, but the actress is now admitting that the controversy surrounding the pay gap became a defining moment in her life, saying she was "paralyzed in feelings of futility" when the news broke.
"Guess what, no one cared," Williams said during a speech in Washington, D.C., yesterday. "This came as no surprise to me, it simply reinforced my life-learned belief that equality is not an inalienable right and that women would always be working just as hard for less money while shouldering more responsibility at home. I've been a working actress since the age of 12. I've been accredited by my industry at the highest levels and that still didn't translate to equal compensation." It was only when her good pal Jessica Chastain tweeted about the issue, Williams recalled, that she started to see any significant action begin to take shape.
"Jessica's audience was much wider than mine, and she wasn't afraid to pick up a megaphone and be heard. And heard she was," Williams added. "There was an uproar and a public shaming within my industry that resulted in a $2 million donation to the Time's Up Legal Defense Fund." (WME, the talent agency that represents both Wahlberg and Williams, also donated $500,000.) As for if the scandal affected the way she chooses future projects, Williams is already seeing conscious, behind-the-scenes action: "On the job I just completed two weeks ago. Let me tell you something, I was paid equally with my male co-star." Major jazz hands to that.