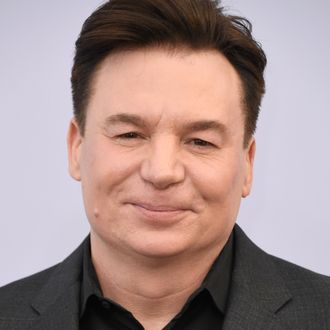 Mike Myers.
Photo: Frazer Harrison/Getty Images
Can we interest you in some new comedy from Mike Myers? Well, it's coming, because Netflix announced today that it's ordered a new series starring and produced by the Saturday Night Live alum. The streaming network didn't share much information about the show, other than it's a six-episode series in which Myers will play multiple characters. Given his recent gig as Gong Show host Tommy Maitland (a role he was very coy about confirming when the show returned to ABC) and occasional cameos as Dr. Evil on The Tonight Show, this project — however mysterious it sounds right now — seems like the perfect show for the longtime comedy chameleon. "I love creating characters," Myers said in a statement about the show, "and Netflix has given me a fantastic playground to play in."
In related news, late last year, Myers teased a brief update on his long-gestating fourth Austin Powers movie, which will apparently focus more on the origins of Dr. Evil. "Well, you're going to see Dr. Evil soon somewhere in the culture. The movie … they take a long time to write. They always have," Myers said at the time. "Jay's [Jay Roach, Austin Powers director] been super crazy — he's doing a fantastic movie right now that he's working on, but it's looking good." Yeah baby.