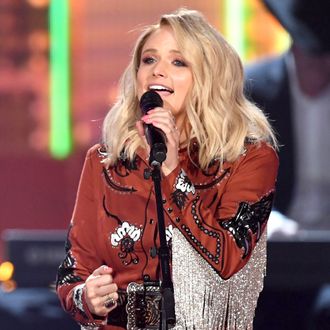 Miranda always brings the drama.
Photo: Kevin Winter/Getty Images
Count on Miranda Lambert to keep things spicy: Country music's reigning drama queen was out in full force at the Academy of Country Music Awards on Sunday night. Where most women were shoved to the side on the broadcast, Lambert kept the spotlight on herself all night with a series of standout moments that began on the red carpet, where she walked with her new man, Brendan McLoughlin. Last month, Lambert dropped the bomb she'd gotten married to the NYPD cop whom she'd only met three months prior and who, by some twisted fate, has an even messier past than her own.
Speaking of her past, a ghost from it was also in attendance at the ACMs: Her ex-husband, Blake Shelton, made the rounds with his longtime girlfriend Gwen Stefani, absolutely none of which was lost on Lambert. During her big medley performance, Lambert took another opportunity to stick it to him live, singing "Little Red Wagon" with the lyric change "I got the hell out of Oklahoma," which used to read "I live in Oklahoma" during simpler times when she and Shelton shared a home there. (She's been singing the new line for years, but never to his face.) But, alas, Shelton and Stefani reportedly had already dipped out of the show during a commercial break right before her performance. So, really, who's shading whom here?