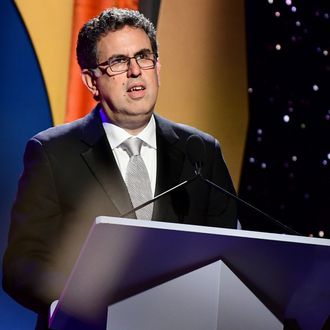 WGA West president David A. Goodman.
Photo: Emma McIntyre/Getty Images
More than 7,000 writers have fired their agents as part of the WGA's ongoing battle with major Hollywood talent agencies, according to a report from Variety. The guild announced the news in a memo to union members on Monday, saying that it's delivered the first set of termination letters to agencies.
Per the WGA's letter, 8,800 Guild members were represented by agents as of April 12, and 99 percent of those who pledged to separate from their "non-franchised agents" have done so. The union's memo also claimed, "Most of the writers who haven't yet signed termination letters are retirees or no longer actively working."
The conflict, which has recently escalated into a lawsuit after months of negotiations, centers on the agency practices of "packaging" projects together and collecting an associated fee for doing so, as well as the rising trend of agencies working with producers owned by their parent companies. Last week, the WGA sued the four biggest agencies — CAA, WME, ICM Partners, and UTA — claiming that packaging fees violate state fiduciary laws and unfair competition laws.
According to a report in the Wall Street Journal, the union is also pressuring private equity firms with stakes in the agencies' parent companies over these practices. In the wake of firing their agents, which many Guild writers did informally before the letters were delivered yesterday, writers have begun seeking new ways to secure jobs, often relying on the WGA's own staffing website, mixers, and a Twitter hashtag.