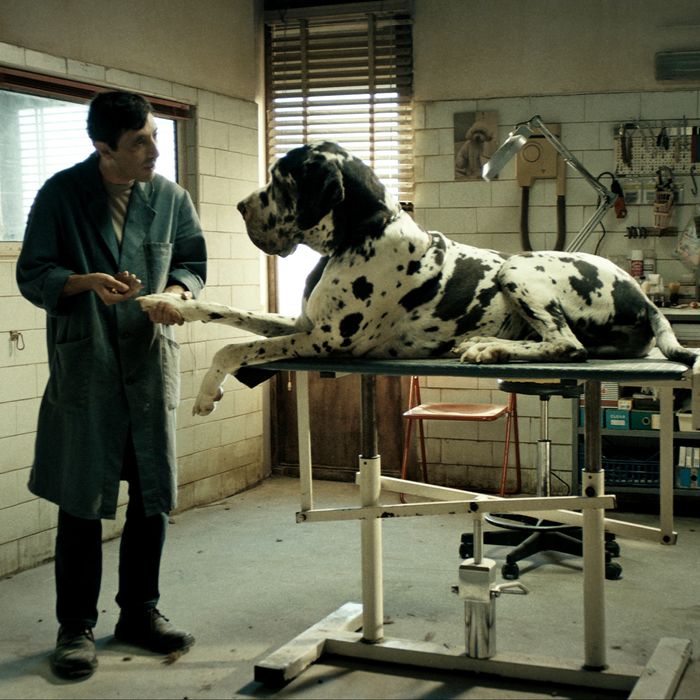 As he suggested in Gomorrah and makes even more morbidly explicit in Dogman, the director Matteo Garrone views Italy as a dog-eat-dog universe in which every dog does not have his day. With no reliable ruling authority and a code of competing loyalties that are too complex for most people to decipher, a runt has little chance of holding his own — even a runt with a good working knowledge of other dogs, such as Dogman's gentle, diminutive, dog-grooming hero, Marcello (Marcello Fonte). The movie dramatizes Marcello's relationship with a huge, mangy, unruly cur named Simoncino (Edoardo Pesce), who will push him not just to the breaking point but the point after the breaking point, which involves immolation. The film gets very, very ugly.
Of course, it hasn't been pretty from the start. Dogman's evocative setting is a rundown beach town (you don't want to rent there), where Marcello makes an adequate living shampooing and shearing a dazzling assortment of pooches and dealing a little coke on the side. He's divorced and lonely but not egregiously woebegone: He plays soccer with other business owners, drinks and dances at the boisterous local watering hole, and spends quality time with his adolescent daughter, Alida (Alida Baldari Calabria). With Alida he takes periodic trips to scuba-diving sites, where father and daughter explore peaceful, colorful, variegated worlds that are the film's only hint of transcendence. (There is no suggestion of a fish-eat-fish universe.) Marcello's life could not be described as "happy" — but whose could be, really? At least he has found his equilibrium, which can't have been easy for a man of his small stature in a culture like this one.
It takes a while for the audience to find its equilibrium with Marcello Fonte. His appearance takes getting used to. He's very small and gaunt with teeth a couple of sizes too large for his mouth. Directors have used his angularity to generate unease, but Garrone finds Fonte's sweet spot: his limpid eyes. Enlisted as a getaway driver for the giant thug Simoncino and a scummy pal, Marcello listens as they chuckle over a bit of collateral damage: While robbing a luxurious apartment, they had to thrust a noisy poodle into the freezer. And they left it there, ha ha ha! I can't imagine a protagonist having a better opportunity to win an audience over than Marcello does in a subsequent scene. After what he risks, we'll follow him to hell.
Marcello isn't exactly friends with the brutish Simoncino — no one is. The giant lumbers through town destroying property and beating people up, to the point where business owners meet to debate hiring someone to eliminate the "mad dog." Garrone's dramatic masterstroke is to suggest that Simoncino's closeness to Marcello isn't always a terrible thing. Yes, the little man is routinely endangered by this wayward colossus, but he also derives some power from the affiliation. Imagine if you were a wee thing and had the opportunity to walk side by side with someone three times as big and a thousand times scarier. The problem is that Simoncino is psychotic even before he starts snorting massive amounts of cocaine. What the mad dog finally takes from Marcello is what Marcello has worked hardest to achieve: that precious equilibrium. Marcello, the ultimate good dog, becomes a pariah.
Dogman doesn't have the scale of a major work, but it tugs you in and roughs you up — in a good way! It haunts you long after it ends. Garrone has a naturalist's eye for how ecosystems remain stable despite insane amounts of violence, and also (as he proved in his under-seen adaptation of three moralistic stories by Giambattista Basile, Tale of Tales) a supernaturalist's eye for metaphors. The movie's cruel irony is that the little dog Marcello has his day but at the expense of his humanity. People aren't supposed to be dogs!