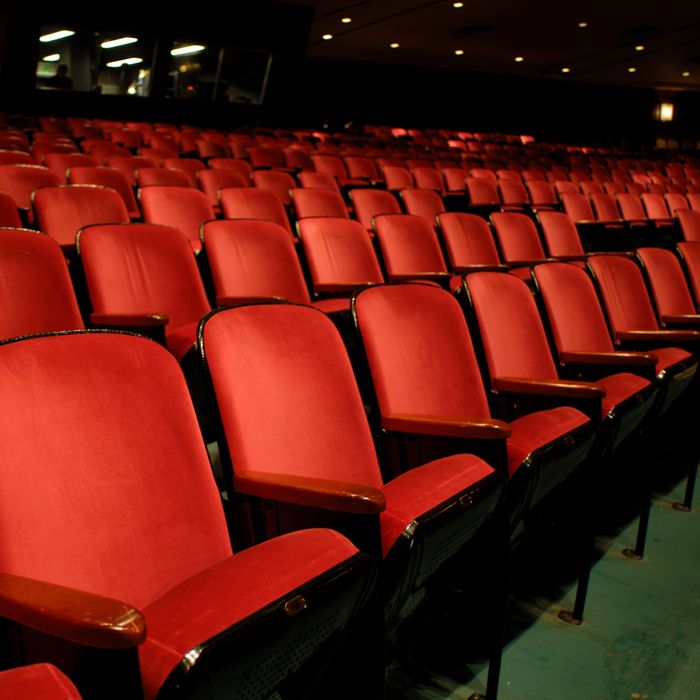 MoviePass's never-ending death spiral gained a burst of momentum Thursday with the release of a new Business Insider report, which claims the controversial ticket-subscription service now counts only 225,000 subscribers. That would mean more than 90 percent of its users dropped off since MoviePass's June 2018 peak, back when the company claimed more than 3 million people were using the service.
Business Insider's estimate of MoviePass's subscriber numbers are based on "internal data" obtained by the publication. However, a spokeswoman for MoviePass, Stephanie Goldman, disputes the report. According to her, MoviePass's parent company Helios and Matheson Analytics Inc. has not released any subscriber numbers. "We're trying to get to the bottom of the Business Insider report," Goldman said in an email to Vulture. "MP/HMNY [Helios and Matheson] aren't disclosing any numbers at this time, but the ones that Business Insider reported are incorrect."
The so-called "Netflix of movies" rocketed to the fore of cultural consciousness in 2017 when it slashed its monthly fee entitling subscribers to see one movie a day, every day of the month, to just $9.95. That move effectively subsidized moviegoers theatrical viewing habits in a risky bid to harvest reams of data about users' spending habits and force theater chains to give MoviePass a cut of concessions sales.
But that price point — in conjunction with the dogged refusal of the movie exhibition community and Hollywood movie studios to cut MoviePass in on their increased profits — proved unsustainable. In August 2018, the service drastically changed the terms of its annual plan, limiting subscribers to just three films a month. And from then on MoviePass has staggered from disaster to disaster — technological glitches, surprise ticketing blackouts, and what it describes as massive amounts of user fraud — eventually evolving into what NASDAQ characterized in a stock analysis as a "failed business that burns through cash at an alarming rate."
In March, MoviePass launched a retooled unlimited subscription plan priced at $14.95 a month (or $119.40 per year) that comes with a number of substantial asterisks. "Your movie choices may be restricted due to excessive individual usage which negatively impacts system-wide capacity," MoviePass posted on its website.
In a conversation with Vulture last month, Helios and Matheson chief executive Ted Farnsworth reflected on the apparent glee both business reporters and social-media commenters have taken in predicting MoviePass's downfall. "It's like when Uber or Airbnb were starting out, they had all these system crashes," Farnsworth said. "But nobody cared because it wasn't in the public eye. We, unfortunately, are in the public eye nonstop. And then people would just feed on it. But you know what? We're still standing."
According to Farnsworth, MoviePass has cracked down on unscrupulous subscribers who he claims misused and defrauded MoviePass to the tune of tens of millions of dollars. "They were giving out their passwords and codes, jumping from device to device," he explained. "Multiple people seeing movies off of one MoviePass card. Multiple cards, multiple addresses, multiple emails. We had people scalping tickets."
To remedy some of those issues, MoviePass now deploys big data with tactical precision: the company verifies that subscribers (as opposed to scalped-ticket purchasers, friends, or loved ones) are the ones whose butts are in theater seats by double-checking the physical location of users' smart phones via the MoviePass app.
As of last month, Farnsworth claimed MoviePass was enjoying a newly positive cash flow as a result. "MoviePass right now is in much better shape than it's been in quite some time," he added. "On a subscriber basis, there's more revenue coming in than people going to the movies. And it's been like that for some time."