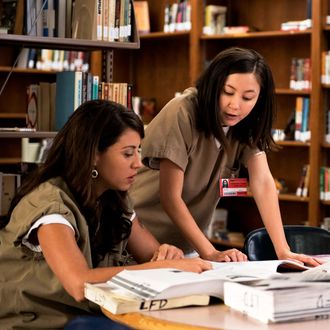 Photo: JoJo Whilden/Netflix
Netflix makes a lot of stuff. Just last year the company debuted more than 700 releases across movies, TV shows, comedy specials, and other originals, and the company knows you might not have kept track of everything. Therefore, Netflix is going to help itself and those TV awards voters across Hollywood by putting out a self-promotional print journal tentatively titled Wide. Bloomberg was the first to report on the publication, which will reportedly come out on a quarterly basis (according to The Hollywood Reporter) and contain essays and features, from journalists (both freelance and in-house) and even talent, about the studio's many pieces of programming.
The streaming studio is said to have poured tons of money into promoting Roma during awards season last year, and for its new periodical, Netflix has brought on Vanity Fair veteran Krista Smith, a fixture of the magazine's Hollywood coverage, to work on the new title. The first issue will reportedly exceed 100 pages in length and arrive in June, just in time for members of the TV Academy to start voting for the Emmys. According to Bloomberg, "Netflix will distribute the publication at the events it stages for academy members. Last year, the company took over a building in Los Angeles for a month, hosting screenings and parties." That takeover was dubbed FYSee (a play on the For Your Consideration acronym, FYC), and it was basically a fancy marketing setup to convince awards voters that its shows are great. Now, Wide will be part of the swag on hand.
News of the new Netflix print arm arrives just one day after it was reported that the studio is looking to buy L.A.'s iconic Egyptian theater.