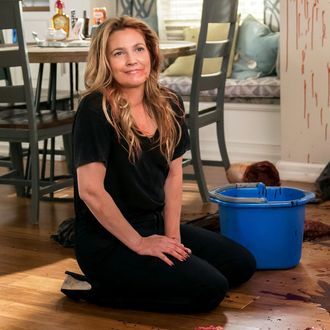 Photo: Saeed Adyani/Netflix
Netflix has canceled Santa Clarita Diet, confirming Friday thaat the Drew Barrymore-Timothy Olyphant zombie comedy-adventure will not continue beyond the three seasons that have already been produced and released. "The world had never known a 'zom-com' until Santa Clarita Diet, and we're indebted to creator Victor Fresco for bringing this idea to Netflix," the streamer said in a statement tonight. Fresco and executive producer Tracy Katsky issued their own statement saying they will "always be grateful" to the company for taking a chance on their show.
"They were supportive, ever positive, and appreciative of our work. Until about noon today," the duo wrote in their own statement. "Still, they were just one phone call away from being a perfect studio. Not bad. Everything ends. This was a thing. And so it ended. We'll miss it but are proud of the work we did and will always appreciate the love and enthusiasm we felt from our audience. It if was up to them, Sheila and Joel would continue for another 10,000 years."
Netflix's decision to kill SCD is at once unexpected and unsurprising. Just a year ago, original programming chief Cindy Holland and her team seemed to think the show had legs, at least based on how she and her direct reports talked about it at a staff meeting. Barrymore and Olyphant offered major star wattage and, in Barrymore's case, an international following; reviews remained strong. But, as the recent decision to cancel One Day at a Time after three seasons underscored, Netflix is increasingly raising the bar on what a show needs to achieve to last more than a few seasons on the service.
Even if a series has a sizable audience — and industry insiders have hinted the show does pull decent numbers, though exactly how many is (like all streaming shows) a mystery — Netflix execs care just as much about other factors, if not more. Netflix series, even more than those on linear networks, get exponentially more expensive after three or four seasons in production. If the audience size doesn't also increase, the cost-per-viewer can get prohibitive. Netflix also wants shows that drive folks to sign up for the service for the first time — and new series are much more likely to draw in fresh eyeballs than existing shows (even ones like SCD, which literally includes characters feasting on fresh eyeballs).