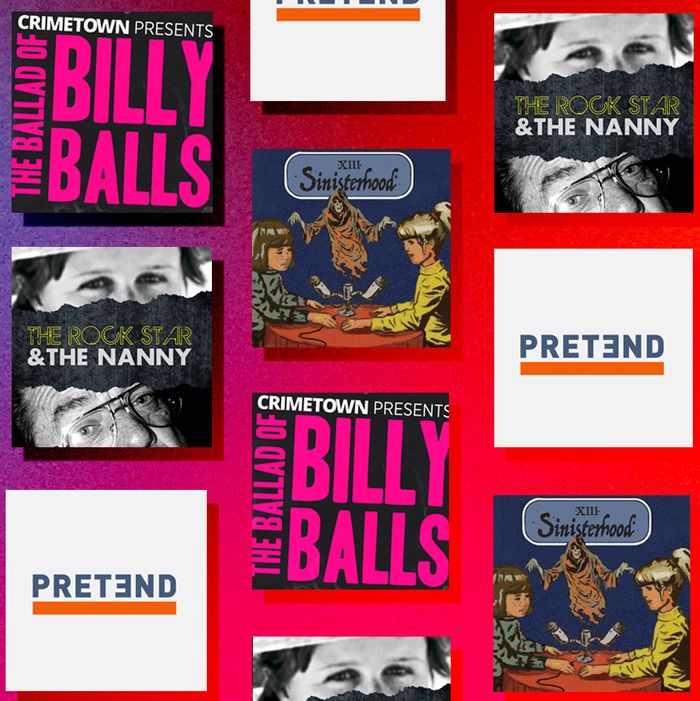 The true-crime podcast universe is ever-expanding. We're here to make it a bit smaller and a bit more manageable. There are a lot of great shows, and each has a lot of great episodes, so we want to highlight the noteworthy and the exceptional. Each week, our crack team of podcast enthusiasts and specialists will pick their favorites. To read the last edition, click here.
The Rock Star & The Nanny: "Episode 1"
It's a provocative title for a provocative case: In 1991, 20-year-old Penny Hill left her hometown to take a job in nearby Coolah, Australia, as a nanny for the children of Col Baigent — the former drummer for Billy Thorpe and the Aztecs — and his wife, Barbara. Just three days later, Penny was found by the side of the road, having been brutally beaten. She would eventually die from her injuries, and nearly 30 years on, no one has been convicted of her murder. This first heart-wrenching episode tells the story of Penny's short life through interviews with her mother and brother, plus the Good Samaritan science teacher who found her and alerted authorities. (That latter account is a particular gut-punch given how guilty she feels, all these years later, that she couldn't save Penny's life.) For the sake of all of those involved, I hope this podcast can shed new light on this old, languishing case. —Amy Wilkinson
Sinisterhood, "The New Jersey Watcher"
So a couple buys an enormous house in a wealthy suburb in New Jersey and before they even move in, they get a letter from someone referring to themselves as the Watcher, referencing specific details about their lives, including their children, who they call "the young blood." Because they're not sure what to make of it at first, they ask the previous owners if this situation seems familiar to them, and sure enough, they also got a letter from this character the day before they moved out. And then there's another letter, and another, and another.
The Watcher case is deranged in a very particular way, so you need the right guides to walk you through it, and Sinisterhood's hosts, Heather Mack and Christie Wallace, are those guides. They will give you the details you need, but also ask important questions like, "What if you read the letters in a not-scary voice? They sound great!," and understand that the baby doll–style shirts of the '90s were no one's friend. You will be entranced by how weird this story is, confounded by the many theories people have about it (including the one where the letter writer is the ghost of John List) and perhaps, at the end of the episode, inexplicably craving Costco meatballs. —Chanel Dubofsky
Crimetown Presents: The Ballad of Billy Balls: "Billy the Kid"
I'm more than a little obsessed with this podcast. The newest series from Crimetown Presents, in association with Cadence13, Billy Balls paints an ultravivid picture of NYC's East Village in the '70s and '80s — it's dangerous and dirty, sexy and scary, which is epitomized by the couple at the heart of this story, Billy Balls and Rebecca Wright. Billy was shot in their Bowery apartment in 1977 and died ten days later, and his murder was never solved. Just as Rebecca found a way to get Billy a proper burial, she discovered he'd been anonymously buried in a common grave, never to be found again.
If you aren't all caught up on Billy Balls and you're sensitive to spoilers, stop here.
The first episode introduces their love affair, Billy's murder, and how it devastated Rebecca. The second reveals a detail that honestly knocked the wind out of me because of the way the story it set up. Host and producer iO Tillett Wright isn't just interviewing Billy's girlfriend, who seems like the sort of quintessentially glamorous artist that can still be found in pockets of the East Village and Soho; he's interviewing his own mother. (I haven't yet read Tillett Wright's memoir, Darling Days, but rest assured it shot to the top of my TBR pile once I connected the dots.) So, that's the other big hook, that the charmingly cool iO is also learning about someone whose life and death so deeply affected his own.
The third episode delves into Billy's backstory. Rebecca provides a few details for iO and producer Austin Mitchell to start with, and they start digging. What Mitchell uncovers is astonishing, from interviews with Billy's childhood friends to stories of his adult life playing gigs at legendary NYC clubs like the Peppermint Lounge. And then there's the other stuff Billy was into, which may or may not have had to do with the mysterious man in a cowboy hat who allegedly shot him. As Rebecca says at the end of the episode, when iO asks her if Billy dealt drugs, "Are we turning the microphone off?" I sure hope not. —Jenni Miller
Pretend: "The One Who Got Away"
Have you ever felt so overwhelmed by life that you considered throwing it all away and making a fresh start? This is the story of a man who did just that. Host Javier Leiva kicks off a new three-part series on fugitives with the curious case of Larry Douglas Jones, a husband and father of three who ran a convenience store in a suburb of Raleigh, North Carolina. Buried under an increasing pile of debt, Jones says he decided one day, after coming up red yet again on his balance sheet, that he was done. He took the weekend's receipts out of the till and just left. Jones spent the next two or three years living near the Gulf of Mexico, selling the day's catch to local markets, while his family worked to declare him dead so they wouldn't be legally obligated to clean up the mess he left behind. Leiva gets both sides of this bizarre tale, interviewing Jones and two of his kids, and it's hard to tell exactly where the truth lies. (Though my vote is with the kids … ) I do wish Leiva would have pushed Jones harder on the emotional toll his actions had on his family, because Jones seems to feel no real remorse. But it's an intriguing intro to a series I'll be sure to listen to from start to finish. —Amy Wilkinson
This week's contributors: Chanel Dubofsky, Jenni Miller, and Amy Wilkinson.