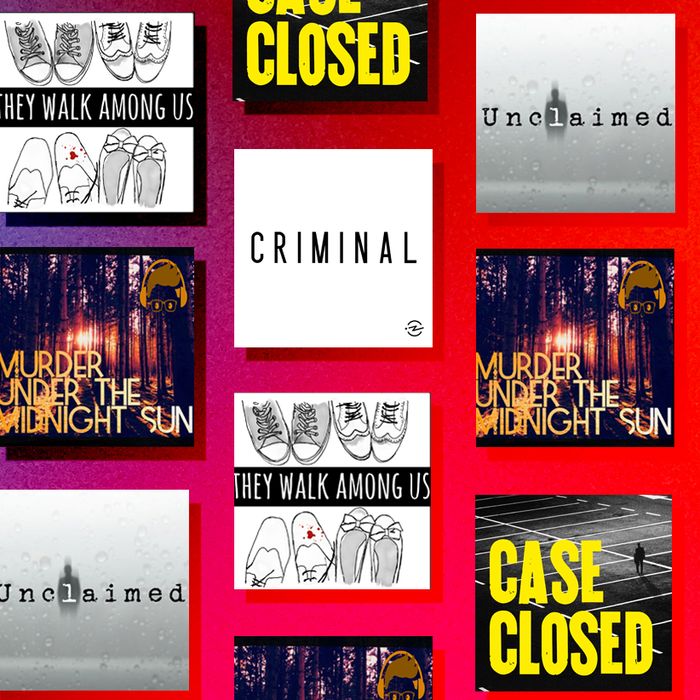 The true-crime podcast universe is ever-expanding. We're here to make it a bit smaller and a bit more manageable. There are a lot of great shows, and each has a lot of great episodes, so we want to highlight the noteworthy and the exceptional. Each week, our crack team of podcast enthusiasts and specialists will pick their favorites. To read the last edition, click here.
Murder Under the Midnight Sun: "The Fairbanks North Star Borough Serial Killer"
As of 2014, Alaska had 51 serial murder cases on their hands. Before we knew that, but while serial killer Robert Hansen was terrorizing Anchorage, there was another dude killing women in the state's Fairbanks North Star Borough. The host of Murder Under the Midnight Sun unearths true crime stories you've probably never heard of, unless you're from Alaska, which makes this podcast a great listen for people who think they've heard everything. Thomas Bunday, the serial killer in question, had the public so panicked and law enforcement so turned around that they sought out the advice of police in Atlanta, who had recently caught Wayne Williams (the Atlanta Child Killer).
What they learned are some lessons we can all appreciate:
1) Don't depend too much on a criminal profile.
2) If you have a heart murmur, you might be able to use it to cheat on a polygraph test.
3) You can totally murder a lot of people and then go home to your family like everything is chill.
And in case you need another reason to listen, Bob Ross has a connection to this case. (Yes, THAT Bob Ross.) —Chanel Dubofsky
Case Closed: "The Funeral and the Van"
The second season of Macmillan's true-crime podcast is based on Michael Fleeman's book Crazy for You, about the murder of an Atlanta businessman named Rusty Sneiderman in 2019. I wasn't familiar with the case or the entire title of Fleeman's book (A Passionate Affair, a Lying Widow, and a Cold-Blooded Murder), but thanks to the heavy foreshadowing in the first two episodes, I wasn't entirely surprised by the revelation that Hemy Neuman — the boss of Sneiderman's wife, Andrea — was somehow connected to the mysterious van that Sneiderman's murderer drove off in. I also appreciated the detail that Hemy had the chutzpah to attend Sneiderman's funeral and take part in the Jewish ritual of shoveling dirt on top of the coffin. Even if he wasn't tied to the murder of the person in the coffin, he'd still been making advances on the dead person's wife! An extreme shonde!
What I like about Case Closed is its publishing bona fides — it's hosted by Charlie Spicer, executive editor at St. Martin's Press, who has an incredible career in the true-crime-nonfiction genre, alongside Fleeman, who knows all of the ins and outs of the case. (The first season was co-hosted by author Shanna Hogan, and was based on her book Secrets of a Marine's Wife.) Case Closed is being released weekly on iTunes, and the entire season is available on Stitcher Premium for subscribers. —Jenni Miller
Unclaimed: "Yonkers Jane Doe"
Unclaimed is a podcast about Does, or the unidentified dead. Each episode examines the circumstances around a disappearance, and talks about efforts to identify the person in question. In the case of Yonkers Jane Doe, whose body was discovered in Yonkers, New York, in 1992, there's an actual recording of her killer confessing to her murder (kind of — he claims he blacked out and that when he woke up, she was dead). Unfortunately, he didn't know her name and he's also dead now. In addition to interviewing Detective John Geiss of the Yonkers Police Department, Unclaimed's host, Karen Binder, talks to forensic artist Carl Koppelman, who creates facial reconstructions of the unidentified dead, about how exactly he does that (it turns out that being dead does a lot of weird stuff to your face), and about how his work led to the identification of Tammy Jo Alexander (Cali Doe). If you spend a lot of time on NamUS, or you're looking for a true-crime podcast that takes things to the next level, give Unclaimed a listen. —Chanel Dubofsky
Criminal: "The Mail"
Honestly, you really can't do wrong with Radiotopia's Criminal and its host/co-creator Phoebe Judge, and this week's episode is no exception. The sexual harassment of Sarah Garone began when she was just 13, with a lewd printout in the mail, and it continued on and off until she was well into adulthood. It started out with dot-matrix printouts of porn and escalated to email hacking and worse. Now a freelance writer, Garone talked with Judge about her chilling experience and how investigators finally got to the bottom of this extremely creepy crime. It's also interesting because the sort of internet-based harassment and stalking Garone experienced was still a gray legal area, and in many ways still is. —Jenni Miller
They Walk Among Us: "Season 3, Episode 40"
This case of intercontinental stalking (nicknamed the "Manacled Mormon case") is so strange, I'm rather baffled as to why I've never heard of it before. (Perhaps you have?) As a student at Brigham Young University in the 1970s, Joyce McKenney showed early signs of inappropriate behavior toward men — going so far as to allegedly stalk Osmond Brother Wayne until he became engaged to another woman and she lost interest. McKinney then set her sights on a new target: fellow student Kirk Anderson. What began as a consensual relationship between the two eventually devolved into kidnap and rape, with McKinney following Anderson all the way to England to supposedly free him from the bondages of Mormonism (and force him to impregnate her). This is the first part of a two-part episode, and it will be interesting to hear how this case played out in the courts, given the less-than-enlightened gender politics of the '70s. —Amy Wilkinson