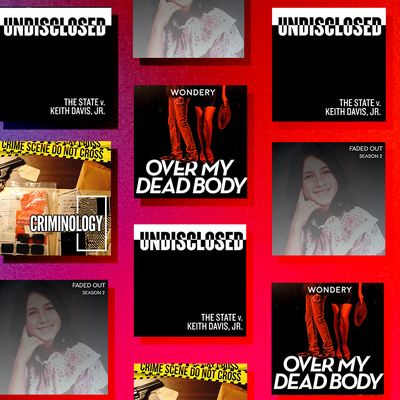 The true-crime podcast universe is ever expanding. We're here to make it a bit smaller and a bit more manageable. There are a lot of great shows, and each has a lot of great episodes, so we want to highlight the noteworthy and the exceptional. Each week, our crack team of podcast enthusiasts and specialists will pick their favorites. To read the last edition, click here.
Faded Out: "The First Reports"
According to one version of events, 12-year-old Doreen Jane Vincent disappeared after leaving her father's house in Wallingford, Connecticut, on June 15, 1988. Thirty years later, Sarah Dimeo, Faded Out's host and creator, is dedicating the second season of the podcast to this unsolved case. (The first season is about the 1982 disappearance of Johnny Gosch.)
The first newspaper article about Doreen's disappearance ran 13 days after she went missing. Dimeo walks us through the language in this and other press, focusing on who was interviewed (Doreen's stepmother) and who wasn't (Doreen's biological mother), as well as some truly dark details about the day she left that weren't reported in the papers, including a door with a deadbolt requiring a key to unlock it from the inside (that's a thing), Doreen's father's violent temper, a church service that allegedly ended at 11:30 p.m., and the possibility that Doreen encountered serial killer Hadden Clark (Wikipedia this dude at your own risk) after she left the house. Once you start listening to Faded Out, you will not be able to stop — it's enthralling, meticulous, and creepy as hell. —Chanel Dubofsky
The Prodfather: "The Chained Woman"
If you listened to the podcast Over My Dead Body, which covered the 2014 murder of Florida lawyer Dan Markel, you may recall the related case of "the Prodfather." The connective thread is tenuous at best: Not long before his murder, Markel had started work on a case against the so-called Prodfather — a Brooklyn rabbi named Mendel Epstein who used illegal means to help ultra-Orthodox Jewish women secure divorces from resistant husbands. It was while writing a piece for GQ about Epstein that journalist (and now podcast host) Matthew Shaer learned about Markel's murder. (Investigators initially thought the killing could have been tied to his involvement with the Prodfather case.)
All of this is to say, if you haven't dived into Over My Dead Body, The Prodfather miniseries is a riveting stand-alone listen. Our window into this story is a young woman named Rachel, whose husband will not agree to give her a get — the document required for divorce proceedings under Jewish religious law. She and her brother come to Rabbi Epstein for assistance, knowing full well that it will likely devolve into violence. But what the rabbi doesn't know is that Rachel is actually an FBI agent — and she's wearing a wire. The Prodfather is a fascinating glimpse into the Jekyll-and-Hyde duality of one rabbi, who wants to help women but must negotiate the torture of men to do it. —Amy Wilkinson
Undisclosed: The State v. Keith Davis, Jr.: "Sunday Morning"
This season of Undisclosed focuses on the ongoing case against Keith Davis Jr., who was shot by Baltimore police in 2015 just months after Freddie Gray had died in police custody. It's been a relatively underreported story until now, and it's an ongoing case that has grown more complicated and confusing over the course of four trials against Davis Jr. to date, with a fifth coming this summer.
This episode sets up that fateful Sunday morning, with background details provided by devastating audio from his second trial in 2017 and interviews with his wife, Kelly Davis, who was on the phone with him when he was shot in the face by police. What really happened that morning when Davis sought refuge in a garage to avoid someone in the neighborhood with a gun? What's especially interesting is that it seems one of the aims of this season is to directly affect the upcoming trial, thanks to the considerable efforts of host and lead reporter Amelia McDonell-Parry and the team behind Undisclosed. There will be several episodes leading up to the trial, and then it will resume in July. Not only that, but McDonell-Parry is challenging a Maryland rule against airing court audio in public, so things could heat up very quickly. —Jenni Miller
Criminology: "The Golden State Killer One Year Later"
With the first anniversary of the arrest of alleged Golden State Killer Joseph James DeAngelo, a handful of podcasts (including, of course, Jensen & Holes: The Murder Squad) are revisiting the high-profile case. I particularly like this episode from Criminology, largely for its no-nonsense update on the prosecution efforts, including an explanation of how the district attorneys are cleverly getting around archaic statute-of-limitation laws from the 1970s in order to charge DeAngelo with as many crimes as possible. But the real heart of the episode are the interviews with survivors, in which they discuss their sense of relief over an arrest four decades in the making. Whether or not the case ever makes it to trial (DeAngelo is 73 years old, after all), there's some small comfort in knowing that, at the very least, DeAngelo's victims no longer have to constantly look over their shoulders.
—Amy Wilkinson
This week's contributors: Chanel Dubofsky, Jenni Miller, Amy Wilkinson