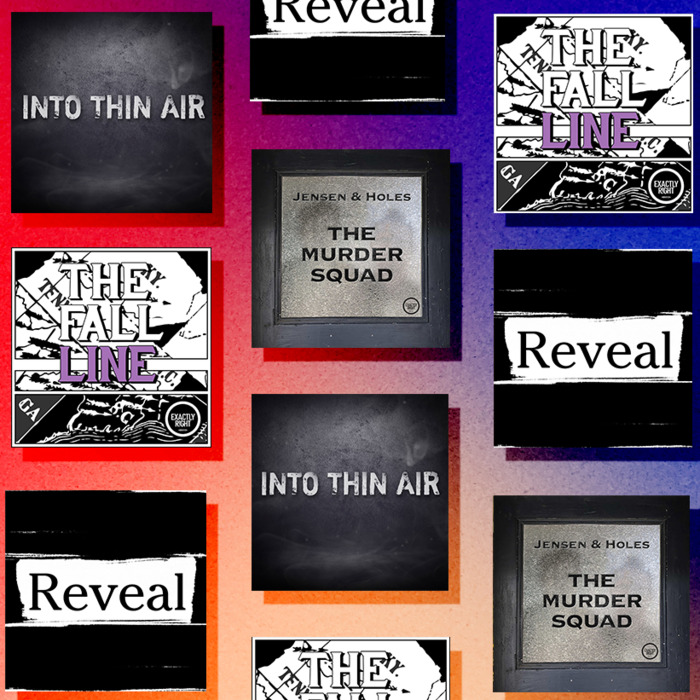 The true-crime podcast universe is ever expanding. We're here to make it a bit smaller and a bit more manageable. There are a lot of great shows, and each has a lot of great episodes, so we want to highlight the noteworthy and the exceptional. Each week, our crack team of podcast enthusiasts and specialists will pick their favorites. To read the last edition, click here.
Jensen and Holes: The Murder Squad: "William Bradford"
In late 2018, My Favorite Murder creators Georgia Hardstark and Karen Kilgariff launched their very own podcast network, Exactly Right, promising a programming slate that would speak to the sensibilities of their vast MFM listenership. With their first brand-new podcast, they more than deliver. Murder Squad is hosted by two rock stars of the true-crime world: Paul Holes, one of the investigators who solved the Golden State Killer case, and Billy Jensen, an investigative journalist who helped finish author Michelle McNamara's book on the case, I'll Be Gone in the Dark, following her untimely death. The two have teamed up to work through the case files of unsolved murders — with the help of listeners (hence, the "squad"). Their first episode focuses on William Bradford, who posed as a photographer to lure women to secluded locations and harm them. Bradford was ultimately convicted on just two counts, but when police searched his home they found dozens of model shots, leading them to believe that his body count was much, much higher. And that's where Jensen and Holes come in: They're hoping to identify (with our help) all of the remaining Jane Does from those images. Now, it remains to be seen just how the interplay between hosts and listeners will go since this is only the premiere episode, but hearing these two seasoned investigators discuss a case feels like having the best lecturers in a Criminology 101 course. —Amy Wilkinson
The Fall Line: "Elia Banderas"
The fourth season of The Fall Line begins with a deeply researched episode on the dangers hotel workers are faced with on a daily basis. The stories featured are tragic and disturbing, including the death of Carolyn Mangham, who got trapped and died in a walk-in freezer at the Westin Peachtree Plaza Hotel where she worked; the daytime murder of housekeeper Elia Banderas at that very same hotel; and the brutal beating of a guest that might or might not have been at the hands of that same perpetrator.
It's a strong episode that they've been researching for months, and the details of how hotels work and what their employees face are damning. The folks willing to talk to them about their experiences describe a physically brutal and often harrowing environment where managers shrug off guests who sexually harass or assault workers, who are usually without legal recourse or protection. It's an important part of the #MeToo movement that is often overlooked, as well as a labor issue, and it's fantastic that they're shining a light on these issues. There are still far too many unsolved cases like Banderas, and hotel chains are reluctant to implement any sort of safety precautions for their workers. Hopefully, coverage like this will force their hand. —Jenni Miller
Into Thin Air: "The Trail Runs Cold"
Into Thin Air is a four-part series by Graham Media and News4Jax, reported by Jennifer Waugh, about the 2009 disappearance of 5-year-old Haleigh Cunningham from Satsuma, Florida. In short, when Misty Croslin, girlfriend of Haleigh's father, Randall Cunningham, woke up on February 10, 2009, the back door was open and the child was gone. Ten years later, Haleigh is still missing, and theories as to what happened to her abound. There's a lot of strangeness in this case, including Misty's ever-changing version of the events of that night, and the fact that Cunningham's disappearance coincides almost five years to the day with the kidnapping and murder of Carlie Jane Brucia in a nearby town in 2014. Each episode is about 20 minutes long, and its narration style makes it seem like you're listening to an episode of Dateline, in that it's tense and alarming and yet weirdly soothing, which makes it super bingeable. You'll be thinking about this case long after the last episode ends. —Chanel Dubofsky
Reveal: "The Mystery of Mountain Jane Doe"
In June 1969, the body of a 21-year-old woman was found on a trail in Harlan, Kentucky. She was known as Mountain Jane Doe until 2016, when she was finally identified as Sonja Kaye Blair-Adams. This episode of Reveal chronicles exactly how the ID happened (including the part where the wrong grave is dug up), including the role of Blair-Adams's daughter, Karen Stipes. Stipes, who remembers hearing when she was a child that it was her mother's body on that trail, undertook exhaustive research that ultimately led her to the National Missing and Unidentified Persons System (NAMUS), which connected with Kentucky state authorities. Even if you're not into Doe cases, have a listen to this episode. It's not just an absorbing account of how a mystery was solved (ish) — it has all of the elements of what makes a great investigative story, including reflections on the fact that as long as we don't know anything about an unidentified woman, she's considered pure and angelic. If we don't like what we find out later about her though, it's easy to let her murder case grow cold. —Chanel Dubofsky
This week's contributors: Chanel Dubofsky, Jenni Miller, and Amy Wilkinson.