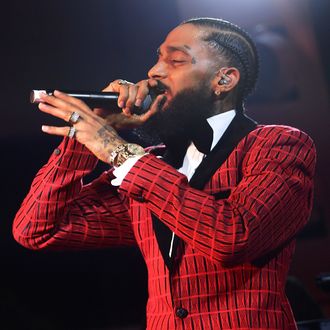 Photo: Matt Winkelmeyer/Getty Images for Warner Music
In response to news of his death on Sunday, Nipsey Hussle's fans, friends, and peers took to social media to remember the rapper, who was reportedly shot and killed outside his clothing store in Los Angeles at the age of 33. NBC News was the first to confirm his death following reports of a shooting that wounded the rapper and two others.
Following the success of several mixtapes, including The Marathon, The Marathon Continues, and Crenshaw (Jay-Z famously bought 100 copies of 2013's Crenshaw at $100 each as a sign of support), Hussle's debut album Victory Lap was nominated for Best Rap Album at this year's Grammys. Longtime partner to The Game actress Lauren London, the pair recently gave a rare interview to GQ. "The artist part of me always wants to be appreciated," he said at the time. "I read every review. But I never wanted to seek validation by awards or anything controlled by politics." On Sunday, SZA, Vince Staples, 21 Savage, and many others reflected on his life and music, which was still very much in progress at the time of his death, according to his would-be collaborators.
LAPD commissioner Steve Soboroff also shared that he and LAPD Chief Michael Moore were set to meet with Hussle on Monday to discuss initiatives to prevent gang violence. And, according to John Legend, he and Hussle had filmed a music video together in Inglewood for an upcoming song with DJ Khaled as recently as last Thursday.