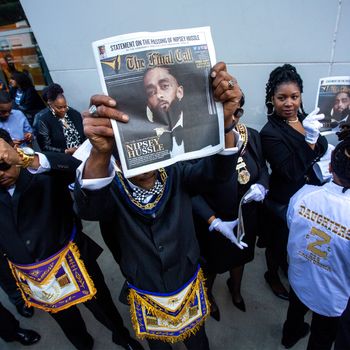 Photo: Davi McNew/Getty Images
After some reported ticketing delays at the door, the public memorial service for the late Nipsey Hussle got underway at the Staples Center in Los Angeles a week after the rapper was murdered in that same city he dedicated his life and career to serving. With some 21,000 in attendance, from a mix of fans, peers, and loved ones, there were performances from Stevie Wonder, Jhené Aiko, Marsha Ambrosius, and Anthony Hamilton, as well as tributes from YG, Snoop Dogg, and Hussle's longtime love Lauren London. Read on for the full recap.
Ahead of the memorial, photos of the program handed out at the service were shared on social media, revealing a heartbreaking poem Lauren wrote to Hussle, excerpted from a text message she sent to him in January. "You've been my turn up and church. I wouldn't want to go thru this journey with anyone but you," it reads. "I love you so much. Unconditionally. My truth is this. I'm never going to give up on you. My loyalty and devotion is to you."
The booklet also included a message from Jay-Z, which read, "The seeds you have planted are already bearing fruit … Sleep well, King. The Marathon continues as a line of energy for all of us to consider."
Additionally, it featured a long message from Kendrick Lamar in which he shared memories of his days coming up in rap with Nipsey and watched him in awe of what he saw. "Was he a product of Crenshaw and Slauson? Was he a radical? Or was he a thinker?" he wrote. "That mystique kept me engaged throughout his life and career. The years progressed, and my admiration grew from up close and from afar." Read Kendrick's full message below:
In 2009, I remember trekking cities alongside Nipsey and family. Both performing as opening acts on The Game LAX tour. Our sprinter van trailed their mobile home from state to state.




Though I was there as support for my brother Jay Rock, Nipsey greeted me as one of his own. And that was very commendable. Casually, I would go out to the crowd and listen to the substance he spewed on stage. Thinking to myself, this is the type of talent I want to be a part of. His charisma and way with words was powerful. But his integrity as a person made me even more enthused.




I watched a young, ambitious black male orchestrate fellowship amongst the men around him on that tour. Determined to execute one thing — and that was Greatness. Greatness in knowledge, greatness in wealth, and greatness in self. My curiosity about who he really was started to grow from that moment in time. Was he a product of Crenshaw and Slauson? Was he a radical? Or was he a thinker? That mystique kept me engaged throughout his life and career. The years progressed, and my admiration grew from up close and from afar. Watching his interviews, his philosophies, and his work amongst the black community.




Time surely revealed itself. I realized Nipsey was all of those perspectives. But most importantly, he was a vessel from God. As my heart aches for him and his family, I understand that the Most High doesn't make mistakes. I pray that Ermias Foundation continues to blossom. I pray for those who trespass against it.




A true King will be tested in adversity. To stand in fearlessness in what he believes will impact on the earth, as well as in heaven. So thank you Nipsey the Radical. Nipsey the Thinker. Nipsey the Father. Nipsey the Brother. Nipsey the Husband. Nipsey the Friend. Nipsey the Great. And from now on, Nipsey the Messenger … Shalom.
At the start of the service, following readings from Minister Reid Rich and Pastor Shep Crawford and a video montage of Hussle's life set to Frank Sinatra's "My Way," Ambrosius sang a powerful cover of Mariah Cover's "Fly Like a Bird." Her performance was followed by Hussle's friend and associate Karen Civil, who read a letter from Barack Obama written that same morning, saying he first learned of Hussle's music through his daughters and familiarized himself with Hussle's community work following his passing. "[He] set an example for young people to follow [and] is a legacy worthy of celebration," it read.
Next, Louis Farrakhan offered a speech honoring Hussle who, he declared, "is to hip-hop and rap what Bob Marley was to reggae. He is the prophetic voice of all in that community." Singer Anthony Hamilton followed that speech with a performance of his song "Do You Feel Me." Father Thomas Uwal next read a scripture in the Eritrean language Tigrinya as a nod to Hussle's Eritrean heritage (his birth name was Ermias Asghedom). Hussle's daughter, son, and other young family members were then brought onstage, joined by Lauren London and Hussle's sister, Samantha Smith. Only Kameron Carter, London's son with Lil Wayne, was able to give a brief speech and encouraged the crowd to yell out "respect!" for Hussle. London and Hussle's baby son, Kross, cooed into the microphone at one point as London offered Hussle's daughter, Emani, words of encouragement before exiting the stage.
Jhené Aiko next performed her song "Eternal Sunshine," followed by a video interlude of footage from Hussle's childhood. Family tributes began next, opening with a reading from his mother, Angelique Smith, who was joined by Hussle's father, Dawit Asghedom, at her side as she called upon the names of Hussle's Eritrean ancestors for Ermias's safe passage home. She followed that with a passionate speech on her life as a single parent to Hussle and his brother, Samiel, and having reached a place of being at peace with the loss of her son. "Ermias was a legacy," she said. "I'm very proud of my son. My son, Ermias Joseph Asghedom, was a great man."
Hussle's brother, Samiel, spoke next and quoted his brother's outlook on death at the top of his speech: "If I die today, I know the set proud, nigga!" He also shared the history of Nipsey's entrepreneurial work, particularly his interest in funding STEM efforts and investing in property, when it was expected that they would've turned to less-legitimate means of opportunity. He said, "I want everybody to know Nip put his heart and soul on Crenshaw and Slauson … Bro stayed and he died on Crenshaw and Slauson. I love you."
London came up to the podium next, reciting the poem shared in the funeral's program. But, "I had to write something because I've never felt this type of pain before," she explained, and went on to share more words about the "love of my life." "His soul was majestic," she said, then addressed the city of Los Angeles: "This pain is really ours. We know what it meant to us. We won't ever be the same. In Hussle's words, 'The game is gonna test you, never fold. Stay ten toes down. It's not on you, it's in you. And what's in you they can't take away.'" She ended, "Grief is the final act of love. I love you beyond this Earth. And until we meet again, the Marathon continues."
Both Nipsey's sister, Samantha, and father, Dawit, also shared thoughtful, emotional words saying Nipsey's was a life well-lived. "He did more in 33 years than most will ever do," Dawit said. Next came Snoop Dogg, who celebrated Hussle's family, calling London his "queen," and thanking his parents for bringing Hussle into his life: "Immortalize this man. The things he wanted for me, he did for himself." He added, in true Snoop color, "This man got a letter from Barack Obama, man!"
YG and DJ Mustard went up next, keeping things short and unfiltered with a message for Hussle on behalf of the city: "I wanna congratulate bro for his legacy … the motha fuckin Marathon continues!" Next, Adam Andebrhan, co-owner of Nipsey's Marathon clothing store, where he was shot, gave the obituary, running down the long list of accomplishments — professional, philanthropic, and personal — Hussle saw through in his short life. Stevie Wonder joined the stage afterward, giving a speech on gun control, and then performing "Rocket Love." Next, Pastor Shep Crawford returned to the service for an impassioned eulogy with quite the McDonald's metaphor for Hussle's life, concluding the service.
The memorial moved on to a funeral procession throughout Los Angeles, passing by the Marathon store, and onto Hussle's final resting place. After the service, London posted her memorial tattoo on her forearm. It features a large portrait of Hussle above the words "God will rise."
This post will be updated accordingly.