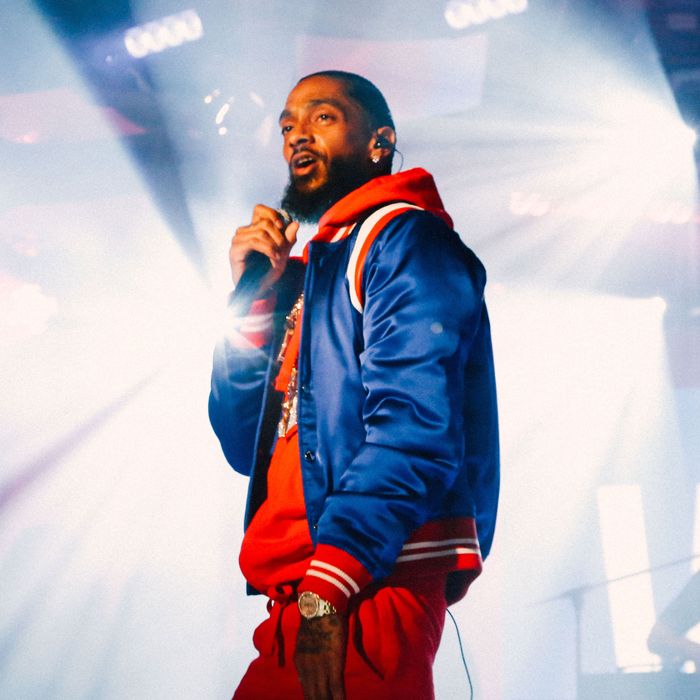 Photo: Cara Howe/Getty Images
Yesterday, rapper Nipsey Hussle was killed in front of the Marathon, a store he owned in the Los Angeles neighborhood Hyde Park. He was 33 years old. Nipsey, besides being a renowned rapper, was known for the ways he invested resources into his community. He was an artist who gave back what he had as soon as he could. In the coming days, weeks, and months you will read a lot about his efforts to improve the neighborhoods he loved, to help people who needed it. It was already clear in his music that he cared about where he was from, but his actions sharpened that love.
He leaves behind a sprawling back catalogue: Loose singles and guest features and compilations and mixtapes and albums — some of which he sold at exorbitant prices to make a point about the importance, the inherent value of music — are scattered throughout streaming services. It is, frankly, overwhelming. Offering a comprehensive guide to the artist is impossible: Do you recommend the songs that led to his 2018 Grammy nomination for Best Rap Album? Do you go back to the earliest hits? The ones like "Hussle in the House" that came at a time when the music industry was largely ignoring the glut of talent that Los Angeles had to offer? Do you pick a few close, personal favorites? All of these endeavors are worthwhile, but none of them could paint the full picture of a rapper so rooted in L.A. rap history, and so intent on carrying it forward with a reverence and genuine love of what came before.
With that in mind, here is a guide to just a small microcosm of Nipsey's music. All of it is worth going back and exploring for yourself; this is merely a starting point.
"Hussle in the House," Bullets Ain't Got No Name 2 (2010)
To get it out of the way, "Hussle in the House," one of Nipsey Hussle's earliest singles, prominently features the G-funk synth whine from Kriss Kross's megahit "Jump." But unlike "Jump," which capitalized on the dominant rap trends of its time, "Hussle in the House" is pure and unfiltered. Nipsey's rasp is biting, and he's writing with economy. Lines like "And in my lifetime, I seen a lot of death / A couple cold nights, it look like it was nothing left" tell you everything you need to know about where he's coming from. It's also impossible to overstate how it felt hearing "Hussle in the House" for the first time. At the time of its release, national attention was decidedly not trained on the artists coming out of Los Angeles. That has — thankfully — changed, due in no small part to Nipsey Hussle.
"Summertime in That Cutlass," Crenshaw (2013)
If you missed Crenshaw the first time around, you'd be forgiven. Nipsey made only 1,000 copies, and sold them for $100 apiece. He was making a point about converting fan following into monetary support of the art, and to be fair, on the first go-around, the price of the album also included a concert ticket and a bunch of other extras. Jay-Z himself bought 100 copies. Eventually, though, Crenshaw saw a wider release, and while there are plenty of great moments, it's worth listening to the low-key "Summertime in That Cutlass," a violent and nostalgic elliptical narrative that showcases the type of disjointed but compelling storytelling that Nipsey excelled at.
"FDT," Still Brazy (2016)
At the time of its release, Donald Trump was not yet president, so YG and Nipsey Hussle's "FDT" (if you somehow have not heard it, "FDT" stands for "Fuck Donald Trump") felt like a warning. A plain and to-the-point track that detailed the awfulness of an awful person. In the days after Trump's election, there was a lot of talk about the political art that could rise up to combat the president's rhetoric. Protest art is valuable, but it gets tricky when you start viewing it as a positive outcome of a bad situation, instead of a necessary reaction. "FDT" was the necessary reaction that already existed. It is in no way subtle (Nipsey: "You build walls, we gon' probably dig holes"), and it didn't need to be. Though it's three years old, it is still vital and relevant. It's unfortunate that a song so rooted in our current moment proved to be so timeless.
"Ain't Hard Enough," Slauson Boy 2 (2016)
Some of Nipsey's best work comes when he collaborates with other rappers who deal in the same sort of hard-edged reality rap that he so frequently engaged with. On "Ain't Hard Enough," from 2016's Slauson Boy 2, he teams up with Sacramento's Mozzy, who does not shy away from the brutal details of violence. Built on ghostly G-funk synth and laser zaps of bass, "Ain't Hard Enough" is far too brief, a haunting meditation on the glory and subsequent pitfalls of violence and posturing. It's over before you've had time to absorb it all, and the only thing to do is play it back again.
"Double Up," Victory Lap (2018)
By the time Nipsey Hussle released his first official studio album, Victory Lap, in 2018, he was already a rap veteran. That he took that long to release an official album tells you a lot about what the album as a concept meant to him. Appropriately, it was loaded with superstar features (Kendrick Lamar, Diddy, YG, and more). Also appropriately, Victory Lap was nominated for a Best Rap Album Grammy. But the album's best moments come when Nipsey shies away from BIG DEAL RAP ALBUM bombast and does what he does best: melancholy tracks about life and death that feel hyperlocal and hyperspecific. "Double Up" is all sunsets and sadness, and it's easy to overlook it in favor of some of the bigger moments on this album. With some time, though, tracks like "Double Up" reveal themselves as the soul of Nipsey's entire musical career: the way he was able to celebrate his present and accept the parts of his past that were probably hard to face. Like all good art, "Double Up" is a track that is about processing and moving forward. It doesn't seek to provide answers.