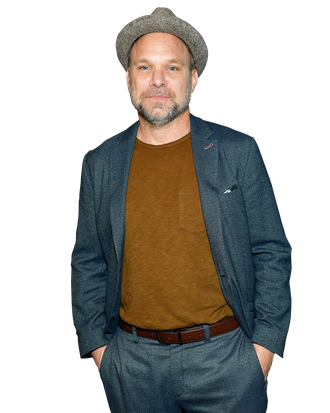 Photo: Mike Coppola/Getty Images
Who would've thought of Paddy Chayefsky, the writer behind searing films like Network, as a goofy uncle? That's the way he comes across in Fosse/Verdon and, according to the stage veteran Norbert Leo Butz (who's been in everything from The Last Five Years to Big Fish to the recent revival of My Fair Lady), the way he really acted around Bob Fosse and Gwen Verdon's daughter, Nicole. "Paddy Chayefsky was like an uncle to her," Butz said of working with Nicole Fosse, who's also a co-executive producer on the series. "She loved him. And I got to hear firsthand about what that relationship was like."
To that end, his portrayal of the character incorporates a little avuncular humor, Chayevsky's signature beard and glasses, and a (toned-down, according to Butz) version of his strong Bronx accent. Vulture caught up with Butz to discuss Chayefsky and Fosse's friendship, his thoughts on the show's portrayal of 1960s sexism, and the joy of watching movie stars be stunned by the talent of Broadway dancers.
Going into the show, I knew about Paddy Chayefsky and Bob Fosse separately, but I didn't realize how close their friendship was.
Nor did I. It was just fascinating, and it's the best part of what we do, getting to do the research on projects like this. Paddy Chayefsky has been on my radar since I was 18 years old, I think. I auditioned for my BFA at acting school with a monologue from Marty. I'd just opened a monologue book. Right away, that writing — even as a kid from the Midwest, I saw something in the writing. So I think it was just a name that was always in my mind. When the offer came, and the source material was largely going to be from Sam [Wasson's] book, I dove in. There's a couple of great Chayefsky bios too. Mad As Hell: The Making of Network is a really fascinating book too.
Reading Wasson's Fosse biography, it was fascinating to see how much time Chayefsky and Fosse spent together, getting lunch at the same deli all the time.
They're both so gifted. You know, people throw around the word genius a lot. And they both were so seduced by talent in any form. They saw the talent in each other, and they shared a no-bullshit, sardonic sensibility. The messages might've been similar, but the messengers were so different, because Bob Fosse was kinetic, he was a dancer. Paddy Chayefsky, except for some boxing he did, or maybe some time in the military, a pretty non-physical dude. He lived the real life of the mind. I think that Fosse's innate physicality, his apparatus, just must've really been fascinating to Chayefsky.
Fosse always believed that the writer was really the greatest contributor on any project. And so I think he really wished he was more book smart or had more education. Chayefsky was really well educated by all accounts, a voracious reader. Incredible vocabulary. They completed each other.
The other thing about the relationship — and the series doesn't get into this — but they were both bastards. They were really, really, really tough personalities. They fought with each other, and it got bad. Yes, they were as close as two heterosexual men can be, but they would have periods where they didn't talk to each other and could, you know, bitch about the other person to the press because they frustrated each other so much, because they just couldn't get away with any crap with each other.
The show really emphasizes the relationship between Gwen and Bob's daughter, Nicole Fosse, and Paddy, and I know she's a co-executive producer on the series. What did you learn from her?
It was small things, like Nicole would come up to me and say, "You know, Paddy always called me Pickle because I was obsessed with kosher pickles, and so that's all he called me." So you'll hear me call her "Pickle" a few times in the series. Just stuff like that. An actor would never think to use that word. A writer wouldn't know that. That's a small example, but it was stuff like that that just was really invaluable to me.
You're playing a real person, though not someone as recognizable as Liza Minnelli or Joel Grey, but how did you approach Paddy's physicality and voice?
I was lucky. I did not feel the pressure that Sam [Rockwell] and Michelle [Williams] felt. There's actually very little video and audio of Paddy Chayefsky. I mean, there's some, and you can find it, but he doesn't live in the mind of pop culture in any way. Paddy Chayefsky is always one of those people where people like, "Oh my God, he wrote that? Oh my God, he wrote that?" It's sort of that you're surprised at how much he contributed to film, theater, all these things. Having said that, Nicole did provide us with really great family audiotapes.
I'm from the Midwest, and Paddy Chayefsky was born and raised in the Bronx. As someone said on set, he was a professional Jew, you know? He was the real deal. So if I were to have really gone and really done his voice, I don't think people would've understood half of what I was saying. It was very Bernie Sanders. On a small screen, that can tip into caricature-land, so it was just sort of trying to find the basic cadence and work with that.
You've talked about in speeches and interviews about being concerned with the way TV typically portrays violence against women and abuse of women. If you're telling a story about Fosse, the sexism and using your power to sleep with women is ingrained in the story and in the culture of that time. What do you think about the way this show approaches that aspect of his life?
I don't know about you, but it really does feel like there's something in the water. Whether it's what people are writing about or television and movies are dealing with, music is dealing with this — I don't want it to become glib to say that this Time's Up culture is a real thing. That did attract me about the piece.
Here's what I find interesting: We're watching men behaving really badly in the late '60s and in the '70s in this show, really across the board. And as the series goes on, Paddy was always very respectful to women, but he was also still complicit, right? Kind of boys'-club thing. But what's interesting to me is that there's not even the consciousness in 1972 of issues of gender and power in the workplace, there's not even a vernacular for it. There's no words for it. It's not even an idea yet. So that's what I like about the show. It shouldn't be portrayed as casual sexism or emotional or psychological abuse or anything like that. It's not casual. It's like you're seeing pre-woke male energy in its most native form.
I think that's valuable for an audience to see in 2019. That's why this feels like such a movement right now, because it's like coming out of some kind of a deep sleep, some kind of dull sleep. That's an important context, I think, for people to see: "Hey, this is hard and everyone's getting their ass kicked and everyone's getting accused and things are coming. But I think it's so strong because look how subverted it was just relatively recently."
I was worried that you weren't going to get to sing or dance in the show, but in the fourth episode, you get to participate in the Pippin finale sequence.
That was an amazing experience to shoot that little segment. It was just one of those moments you have as an actor, where you're like … "surreal" isn't even the right word. I think I was, I don't know, 16 years old or something when I saw Pippin on PBS back in the '80s. It was a seismic shift in my consciousness after singing. That was my first introduction to Fosse.
To find myself at 50 to be with these amazing actors and those dancers — and what was really moving about that day was I've worked with a couple of those women who are dancers in that sequence, and to watch Sam Rockwell and Michelle Williams watch those dancers, Broadway hoofers, you know? I cannot believe what these women can do at ten o'clock in the morning after a cup of coffee, their physical apparatus. They just come in and kill it in front of the crew and these world-renowned actors, and then they just go back and go do their shows that night. It's deeply moving to me, the soul of the Broadway dancer. Seeing those uncelebrated, unacknowledged men and women who have the ability to do Fosse choreography — because it's so fucking hard — in front of these actors, in another medium. For these actors to go, "I'm not worthy," it was really amazing.
Susan Misner, who's also playing Joan McCracken, was the choreographer for that, I think?
She is the coolest woman. I mean, talk about talent. Yes. She's an incredible actress herself. She's a beautiful dancer. She's gonna take over the world, I think. She actually choreographed the numbers right within the scenes, and then she'd step out and then act in a scene and then she'd get behind the camera and check out the lens sizes.
If they were to do a Fosse/Verdon–style show about the making of Wicked, where you were the original Fiyero, or Rent, which you were an understudy on very early on, who do you think should play you?
Oh my gosh. Well, you know, I've got a couple of projects, but my schedule is really free next year. I would just go ahead and play it myself if I could. If they would let me. But let's see. A younger version of me. I couldn't even, I couldn't even say, you got me. Maybe I'd give it to a woman and say, "Hey, see what you can do with me." Yeah, that'd be fun.