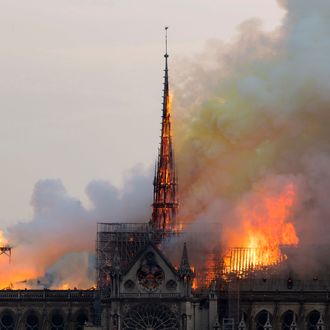 The Notre-Dame Cathedral in flames, before the spiral fell.
Photo: Fabien Barrau/AFP/Getty Images
The artwork of Notre-Dame appears to be safe. Early Tuesday, Paris mayor Anne Hidalgo tweeted a video of the works being moved into a van, from which they were then transferred to a storeroom in Paris's city hall, the Hôtel de Ville. According to The Guardian, the artwork will be taken from the Hôtel de Ville to the Louvre where they will be "dehumidified, protected and eventually restored," says France's culture minister, Franck Riester. The Guardian also reports that the crown of thorns, the great organ, and the tunic of St. Louis are confirmed safe, as well as the famous stained-glass windows in the main cathedral. A separate fragment of the crown and the relics of Saint Denis and Saint Genevieve were lost with the famous spire.
On April 15, a fire broke out at the Notre-Dame Cathedral in Paris, which was undergoing renovations. After 14 hours, the fire was contained, but not before the building's spire collapsed into the roof. Photos of the aftermath from BBC News show the damage done to the cathedral. The cause of the fire is still unknown.
Since the fire, private donors have pledged more than €700 million to help rebuild the cathedral, on top of the funds the government has provided. One of the largest donors was actress Salma Hayek's husband, French billionaire François-Henri Pinault, who heads Kering, a group of brands that include Gucci and Saint Laurent. Pinault and his family pledged €100 million, according to a French journalist who spoke with The Guardian. The overall cost and time frame of repair is currently unknown, but experts who spoke to The Guardian estimate it could take decades.
Al Jazeera reports that over 100 churches around the world, including London's Westminster Abbey, will chime their bells together to mark the 24 hours since the fire.